As we use our phones, tablets, laptops, and TV screens, we expose ourselves to blue light. Constant exposure to blue light can affect your eyesight, lead to headaches, or affect your sleep quality. If you're more sensitive to the brighter screen, you may experience more symptoms hence the need for the anti-EMF glasses commonly known as blue light glasses.
These glasses block the high-energy blue light produced by digital screens. As more digital screens keep popping up in the market, the more we need to use EMF glasses. So what are the best anti-EMF glasses?
Before we venture into the best blue light blocking glasses in the market, let's learn more about blue light and why you need to protect your eyesight from it.
What is Blue light?
Blue light is everywhere! Our modern digital life relies on various smart devices that expose us to a lot of blue light every day. Modern devices such as smartphones, laptops, tablets, and televisions emit brighter and short-wavelength light.
Thus, blue light is a wavelength of light that resembles the color blue in the light spectrum. So when you use your laptop or computer for long hours, you expose your eyes to the blue wavelengths.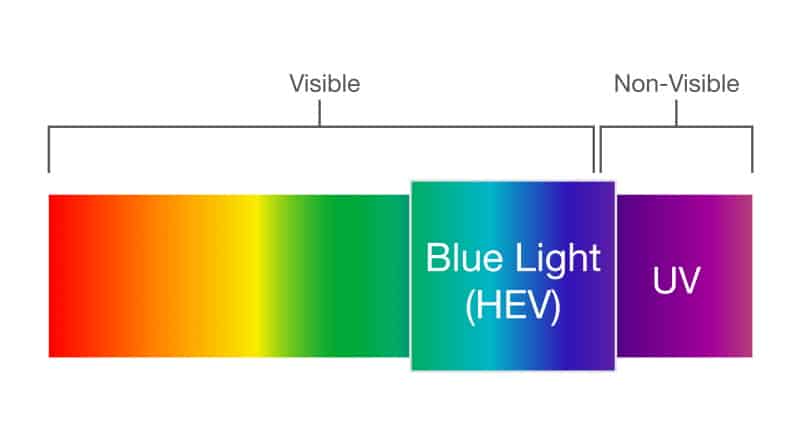 Modern digital device screens use ultrathin light-emitting diode (LED) lights that make the screen very bright. As a result, it increases your exposure to blue light and EMF radiation (primarily dirty electricity). 
Dangers of Blue Light
Prolonged exposure to blue light is harmful to your eyesight, especially at night. For example, using your mobile device for long before bedtime can affect melatonin production. Melatonin is a hormone that is responsible for the regulation of your sleep. This affects our ability to get quality sleep.
It also affects our circadian rhythm (the body's internal clock). Our circadian rhythm is responsible for determining when our body gets tired, and it is very essential to our overall well-being.
In addition to suppressing melatonin secretion, increased exposure to blue light is also associated with other eye problems. Those who use computer screens and other digital devices may experience eye strain, blurry vision, or even have headaches, especially if used at night.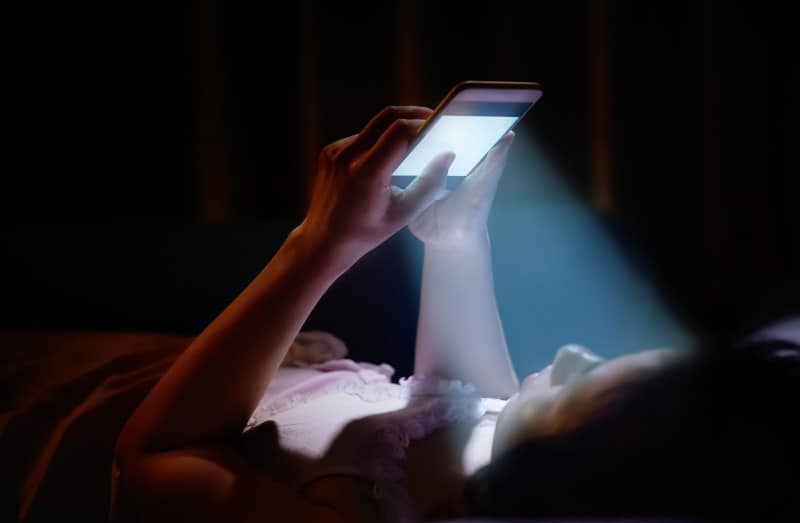 So wearing the blue light blocking glasses will help you reduce these effects.
According to the American Academy of Ophthalmology research, the problem people face from the use of digital screens is due to the overuse of digital devices. The symptoms you experience after you use your digital devices is linked to how you use them and not just coming from blue light.
Those who have been using these kinds of glasses report reduced eye strain and other eye problems.
Anti EMF glasses with amber lenses can filter this blue light and protect your eyesight from its damaging effects. The glasses will reduce your eyestrain, prevent eye diseases, and improve your sleeping habits.
A study done by the University of Houston in 2017 found that participants wearing glasses increased their melatonin production to about 58% at night. Therefore, using blocking glasses when you use devices can improve your sleep.
If you spend more than 6.5 hours on your screen, you need to invest in a good anti-EMF blocking glass to protect yourself from the dangers of the blue light.
Factors to Consider when Buying Blue Light Blocking Glasses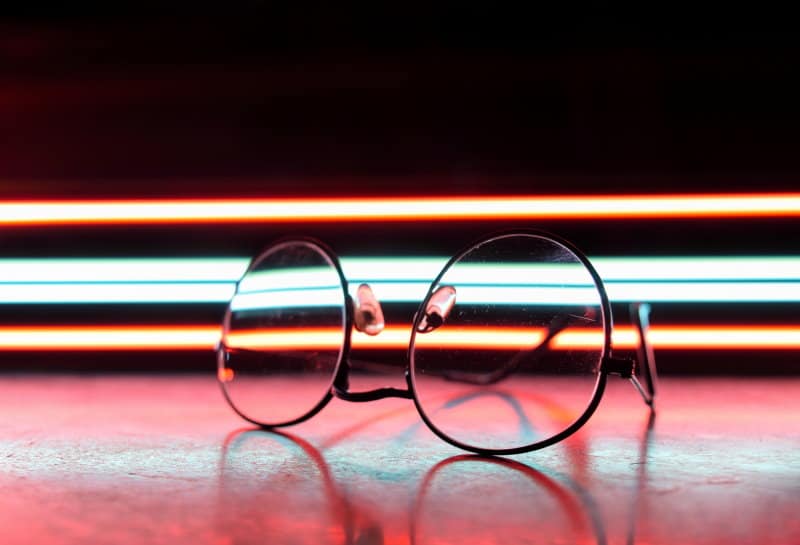 Before making your decision on which anti-EMF glasses to buy you have to consider the following factors. 
Comfort:

Since you have to wear the glasses often, you need a pair that is comfortable on your face. Make sure the pair securely fits you and is not too heavy. There are various styles you can choose from, so you can try several of them to get what's comfortable for you. If you're cautious about your image, choose a brand that you're comfortable wearing in public.

Value:

How long you spend on the digital screens and your budget determines the glasses to go for. There are some low-priced blue light glasses that work well so you don't have to go over your budget.

Effectiveness:

There are blue light glasses that are more effective based on individual eyesight and how often you wear them. Therefore, the most effective blue light glasses are those that protect your eyesight depending on the activity you do the most. There are different glasses for reading, playing games, and working on your laptop or computer.
Best Anti-EMF Blocking Glasses
There are different blue light blocking glasses on the market. I have put together some of the best blocking glasses you can buy to protect your eyesight and reduce the dangers of blue light.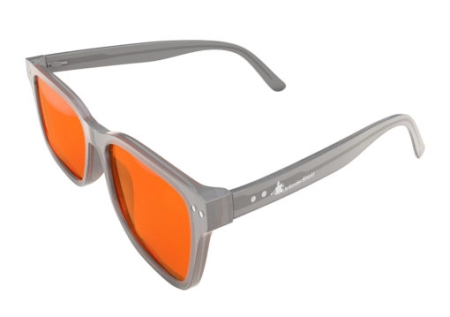 DefenderShield blue light Blocking Glasses are my favorite. The brand has a variety of blocking glasses that you can use to protect your eyes from the harmful health effects of your computer or smartphone screen.
Although some of the protective glasses are very expensive, you can choose from different models depending on your budget. These glasses do an amazing job – even the cheapest Reader Series available with or without magnification uses 50% to 99% blue light blocking lenses to protect your eyes.  
The lenses help reduce the blue light emitted by your computer, laptop, or smartphone screen among other electronic devices. The professional and polished frames of these glasses make you feel more confident and reduce the effects of long-term exposure to blue light.
These glasses from DefenderShield have frames made of different shapes and sizes. The frames are made using high-end hypoallergenic and high-quality renewable acetate. This makes them sturdy, long-lasting, and lightweight.  
The lenses are shatterproof and have an anti-fatigue element to improve your concentration as well as your readability on small characters. You don't have to strain your eyes resulting in headaches, dry eyes, problems in focusing, and fatigue.
They also have an anti-glare coating to remove any reflection on the screen. The lenses are also very clear even when playing games. The anti-glare feature ensures you don't strain your eyes as you play your video games.
Types of Lenses to Choose
You can easily choose between the yellow lenses and orange lenses. Each of the lenses offers different levels and styles of protection. Both CR-90 lenses block UV light up to 99%. The yellow lenses are suitable for use during the daytime and you can use them when working on your device or when playing games on your computer or TV. They can block up to 50% of blue light.
Orange lenses are suitable for use during night time and filter blue light up to 99%. They optimize the circadian rhythm to make you wake up feeling greater as well as improve your sleep quality. They also help reduce premature macular disease and glaucoma risk. Orange lenses are also great for optimal gaming.
So when buying this brand of glasses, you not only choose your favorite frame but also you can choose how much blue light they filter.
DefenderShield offers some of the best EMF protection products, and the quality of these anti-EMF glasses makes them my first brand of choice.
Pros
Sturdy design
Lightweight frames
Available in yellow and orange lenses
Anti-glare coating
Anti-fatigue element
Cons
This is one of the cheapest blue light glasses on the market and it is still a great quality product, helping reduce the effects of computer vision syndrome. Gamma UV blue light blocking glasses have a unisex design that makes them suitable for both men and women.  
It consists of blue-orange-amber-tinted glasses that block up to 97% of blue light thus ensuring you have better sleep and wake up feeling more energized. It also has an adjustable nose pad to ensure it comfortably fits you.
If you work more at night, you can have a pair of these gamma-ray glasses and improve your sleep quality. There is no more turning and tossing in bed at night! Light sensitive glasses fitted with orange lenses filter the blue light that causes dizziness, eye strain, insomnia, and headaches.
The glasses have very lightweight adjustable stainless steel frames that are made of black plastic material. The frames have spring hinges that make them more comfortable.
It uses bluguard technology to reduce high-frequency light and UV. They're perfect for home and office use. With this pair of glasses, you no longer have to struggle with dry eyes, headaches, and feeling tired during the day.
Gamma-ray optic blocking glass comes with a complimentary carrying case and a cleaning cloth. They guarantee total satisfaction and come with a 90-day money-back guarantee. So if it doesn't work per your expectations, you can return it and get a full refund.
Pros
Stylish and unisex design
Comfortable to wear
Cheap
Durable
Cons
Frames may come off with time
This is another set of reading and gaming anti-EMF protective glasses from J+S. The glasses have a tortoise frame that makes them look more stylish. They're a blend of quality and affordability. If you're looking for a pair that is more attractive with a nice frame for a few extra dollars, you should consider this pair of glasses.
J+S blue light glasses offer multiple benefits and block about 90% of high energy blue light rays. They filter out the harmful blue light allowing you to focus more on the game you're playing or the task at hand.
Unlike other types of filtering glasses in the market, you should expect minimal color distortion with the J+S brand. However, the lens is optimized to bring a perfect balance between your viewing quality and protection to your eyes.
Its wayfarer classic style frame makes the glasses attractive and the style can be worn by both males and females.
They are much heavier than other types of blue light glasses and this makes them feel slightly heavier and sturdy on the face.
Pros
Sturdy
Classic frame
Filters 90% of harmful blue light
Improve your productivity
Cons
Radiation from Domestic Appliances ...
These Cyxus blue light glasses have a retro-square clear lens that blocks the harmful blue rays thus protecting your eyesight from harmful UV and high-energy blue light.
This blocking glass focuses on blue ray blocking, UV protection, and a clear lens. The lens of this type of glass is made using American technology HEV-Adsorb substrate absorption. This makes it easy to absorb the high energy blue light rays from your digital devices.  
It's clear lens with a transparent base provides a lower reflective effect while reading. It helps you maintain light transmittance at high levels without any pigmentation or color difference.
The anti-blue ray lenses of Cyxus anti-blocking glasses utilize the U.S substrate processing technology to shield your eyes from ultraviolet radiation. You will no longer experience any eye fatigue and reduce headaches caused by blue light.
The stylish frame is designed to accommodate different head sizes so anybody can use this pair of blue glasses. You can customize it with your own frame design.
This dustproof PC lens delivers a clear and excellent visual experience. It is risk-free because once you buy it you get a lifetime warranty.
Pros
Waterproof design
Lifetime warranty
Clear lens
Risk-free
Cons
These are unique pieces of blue light glasses designed to fit on the top of the health glasses you're wearing. You can also wear them on their own.
The glasses utilize the use of amber lenses to block blue light by 95% although they add some discoloration. The black frame is more durable and lightweight.
Northland Outpost design borderless glasses are extra-large to give you an excellent viewing experience when playing games or watching television. In addition, the anti-glare lenses prevent the straining of your eyes.
They come with a cleaning cloth and a storage case as well as a soft storage bag. The borderless glasses are very delicate thus the need for extra care during storage.
They offer 100% customer satisfaction so if you're not satisfied you can return the glasses and get a full refund.
Pros
Lightweight design
Filter blue light up to 95%
Durable frame
Cons
Conclusion
There are different anti-EMF glasses that block exposure to blue light. If you spend a lot of time on your computer screen, you can buy any of these glasses to prevent eye strain. Exposure to high-energy blue light can contribute to headaches, insomnia, and other eye problems.
Since there are different anti-EMF glasses in the market, the best blue light glasses are the ones that protect your eyesight based on the activity you regularly do. If you're looking for blue light glasses with different sizes and shapes you can go for DefenderShield Blue Light Blocking Glasses. It also has different types of lenses.