Dirty electricity is one major source of EMF emissions at home, and many people are not aware of it. It is created by unusable electromagnetic energy from different electronic devices in your home. This unused source of EMF radiation can, however, be eliminated by the use of dirty electricity filters.
There is a wide range of filters, some that work and others that don't. In this article, I will guide you on how to choose the best dirty electricity filter for your home.
Read our best Dirty Electricity Filters review to find out.
What Is Dirty Electricity?
Dirty electricity, or electrical pollution, is unused power that remains in the electrical wiring. The standard wiring system for almost every building and home is 60 hertz of AC, whereas Europe recommends 50 hertz of electricity.
Initially, electronic devices were designed to draw this amount of power, and there was no unused electricity left in the wiring system.
However, modern electronic devices are designed to consume more or less AC electricity. As a result, they cause inconsistent power usage. The unused power remains in the wiring system and radiates harmful electromagnetic field radiation.                                          
Some equipment can't rely on the recommended 60 hertz and function well, so manufacturers manipulate how these devices draw power. This practice interrupts the normal flow of power in the wiring system.
As these devices draw power, they create surges and spikes of power in the wiring system. These surges and spikes are commonly known as dirty electricity.  
Electronic devices, like your laptop charger, TV, fluorescent light bulbs, and dimmer switches need more or less power than the 120 Volts supplied by the electrical outlet. These devices have a transformer and a rectifier. The transformer changes the device voltage, whereas the rectifier changes the alternating current (AC) to direct current (DC). This interruption of the normal flow of power in the electrical outlet is what causes dirty electricity in your home.  
Dirty electricity contributes to high levels of EMF radiation in the environment, so, to reduce your exposure level, you need to install dirty electricity filters in your home or office.
How to Filter Dirty Electricity in Your Home
Dirty electricity filters reduce pollution from electrical outlets by either preventing power surges or converting the unused electricity into a usable current. This can be done through the following:
Using plug-ins

: Plugging the filter directly into the wall outlet to filter electricity from the entire circuit. 

Using kill switches

: Using a circuit breaker that filters dirty electricity in your entire home. A kill switch shuts off power from the selected circuit breaker, thus no electricity can flow through.

Whole-home filters

: Providing you with a "one-step" solution to shielding against EMF instead of having multiple shields for each electronic device.
Any of these methods can help you deal with dirty electricity issues in your home.
You will also need to measure the amount of dirty electricity pollution emitted in your home. Without knowing how much pollution is in your home, you will be unable to combat the dirty electricity radiation. Therefore, you need to do research on the amount of dirty electricity you're exposed to and whether the type of filter you want to buy will do the job. 
Figuring out the amount of dirty electricity in your home is only possible if you have a dirty electricity meter. Although the dirty electricity meter may be expensive initially, it will give you value for your money in the long run, as it will put you in a position to measure the amount of dirty electricity in your house accurately.
Some meters you can invest in include the Graham-Stetzer meter or GreenWave Broadband EMI meter, which can both measure dirty electricity in your home or office.
How to Choose the Best Dirty Electricity Filter for You
Since you know how much radiation is emitted through dirty electricity, you can choose the best dirty electricity filter to reduce your exposure.
However, there are some factors you have to consider before making your buying decision. Factors include:
Ease of use:

Make sure you choose a filter that is easy to install and use. There are some filters you can plug directly into the wall outlet, and you should only need to plug it in and switch it on. Once it is on, it can start filtering dirty electricity in your home.

Safety standards:

Regardless of your location, the filter should be made following the recommended safety standards set by your governing authority. Before buying any filter, make sure it has local safety guarantee measures. Also, confirm where the filter comes from. For example, if you're in the US, choose filters made in the US if possible. This is a guarantee you're buying filters made following your governing authority's safety standards, while also ensuring it will fit in the wall outlets in your home.

Built-in outlets:

When you plug the filter in the available plug socket, you will have fewer plug sockets at your disposal. For this reason, some people avoid using DE filters. However, there are filters with built-in outlets that allow you to plug any device in the socket. In those cases, you won't have to worry about having few sockets to plug into.

Fuse:

The best dirty electricity filters should have an internal fuse. Always buy filters that have an internal electric field screen (internal fusing).

Value for money:

Always buy a filter that fits your budget. Different filters are sold at different prices, so look for a filter with the best market price that fits your budget, has enough features to give you value for your money, and is long-lasting.
Best Dirty Electricity Filters
With a variety of dirty electricity filters on the market, it's better that you do your research on which one is best for you. Considering that the filters are very expensive, you will have to evaluate the product's features and reviews and choose the best on the list for you.
7. EMFields DE2 Dirty Electricity Filter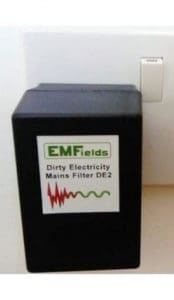 The DE2 dirty electricity filter is a budget-friendly plug-in filter designed to regulate voltage in your home. It comes either with a standard 3-pin plug or with a Euro plug adapter; it's on you to choose the one you need.
You can plug the filter into any standard 13A power socket. The DE2 filter is fully approved and follows all European safety standards. It also has an internal electric field screen that connects to the Earth pin.
The EMFields DE2 filter has a large capacitor that makes it effective in reducing DE by regulating high-frequency noise between 230V and neutral from your wiring system.  
Pros:
Reduces dirty electricity

Easy to use

Fits both UK and EU plug adaptors
Cons:
The Satic power perfect box will provide a filter against dirty electricity for your entire home. So, instead of filtering just specific circuits via plug-in, it filters the entire house and provides you with clean energy.
Protecting your home on a singular basis is more convenient and helps save money and space, since only one DE filter is needed.
This power perfect box comes with a surge protector for protecting your sensitive devices while regulating the voltage in your home. It also reduces any electromagnetic interference that could be in your home.
The Satic power perfect box must be installed to the main power supply and thus, you will need an experienced technician to install it. On the other hand, some users claim that the Satic power perfect box reduced their electricity bill to between 10% and 15% after some time.
Pros:
Convenient.

Robust surge protection.

Reduced energy consumption.

Reduces distortion.

Reduces electromagnetic fields.

10-year warranty.
Cons:
Not easy to install.

Expensive.
5. NOXTAK Dirty Electricity Filter
The NOXTAK dirty electricity filter is another great electricity filter available on the market. You can plug it to any electrical outlet or power strip and experience reduced power pollution in your home. It has a built-in outlet that allows you to plug in other appliances.
The number of filters to install depends on the amount of dirty electricity radiating in your home. Make sure you have a good EMI meter (sold separately) to measure the amount of electrical pollution in your home. Always install the filter where the main sources of EMF are located.
The filter doesn't block wireless signals or affect the way they function, but it can handle different sources of EMF concurrently. It filters power surges and spikes caused by modern electrical appliances connected to the power outlet.
The NOXTAK dirty electricity filter uses an EMF nanomagnetic polarizing filter to ensure you remain healthy and stay in a clean environment free from EMI and RFI.
The filter has a 15-amp surge protector to boost your device's lifetime. Once you plug the filter on the power strip, the LED indicator turns blue to indicate the device is on.
Pros:
Durable.

Easy to use.

Healthy environment.

LED indicator.

Surge protector.
Cons:
Doesn't block wireless signals.

Can make the lights flicker.
4. Satic Pure Power Dirty Electricity Filter
Satic pure power filters are the newest on the market, though it still provides effective means of cleaning electricity pollution and creating a healthy living. This filter is created for modern homes and ensures you have a healthy working environment free from any power pollution and other electromagnetic fields radiation.
It is more effective when plugged into the wall outlet in your home or in a power strip. You can plug this versatile DE filter into any standard 120V power outlet. The filter helps reduce EMF, harmonic distortion, and high-frequency transients in your home.
In addition, the pure power plug outlets have surge protectors which enable your devices to last long and prevent overheating. It also helps reduce power consumption, hence cutting down the power cost.  
Built-in outlets allow you to plug more devices into the filter. Satic pure power plug-ins are mostly used in pairs, where one plug would be used for phase A, whereas the other plug would be used in phase B of the home circuit. You can use one plug-in at a time, but this will not be as efficient as using them in pairs.
The Satic pure power plug is designed to meet UL standards with strict manufacturer protocols. The pure power plug-in is certified by both FCC and CE to ensure it offers quality and safety both nationally and internationally.
The pure power plug-in has an extraordinary combination of optimized power conditioning, nano-surge filter, voltage regulation, and a unique circuit board design, making it more effective and reliable.  
Pros:
Convenience

Simple and easy to use

Boosts device lifetime

Safe

Reduces power consumption

3-year warranty
Cons:
This is another dirty electricity filter by Graham. The DE filter reduces high-frequency currents and electrical harmonics within your house. When the DE filter is on, you can experience the high-quality, electrical current flowing on all the devices.
Some customers claim to sleep better and for longer periods when they switch this filter on at night.  
Stetzerizer filters convert the created dirty electricity into a safer and more usable form. When plugged in the wall outlet, it converts the current flow back to the standard 50 or 60 Hertz power.
It is effective in reducing overall exposure to dirty electricity in your house. The number of filters you need will depend on the number of electronic devices plugged into the sockets and the size of your home.
Since these filters don't have a built-in outlet, they may take up some space, especially if you have only a few sockets. So, if you live in a small house with fewer sockets, then this filter might not be for you.
Pros:
Simple and easy to install and use.

Can help alleviate headaches.

Reduces EMF readings.    
Cons:
2. Greenwave Dirty Electricity Filter
Greenwave International has been on the front line in the fight against dirty electricity at home. Their DE filters are UL-certified and RoHS compliant, making them safe for use.
This plug-in filter is easy for you to install, and you can plug it into any standard outlet. It is one of my favorite dirty electricity filters that reduces exposure to any unhealthy electrical pollution. If you're sensitive to electromagnetic radiation, you can plug this filter into your bedroom socket and enjoy its benefits.
Greenwave dirty electricity filters use Electromagnetic Interference filtering (EMI) technology that filters transient voltage and harmonic current in the wiring system. The filter prevents the occurrence of electric surges and spikes.
The EMI filtering technology reduces the level of dirty electricity flowing in your wiring system. It also filters magnetic fields, electric fields, and radio frequency signals in your room.
Watch this video to learn more tips on how to reduce dirty electricity.:
At the bottom of this plug, there is an additional built-in outlet you can use to plug any of your devices into the socket.
You can also buy a Greenwave EMI meter to measure the effectiveness of the filter.
Pros:
Convenient to use. 

Safe to use. 

Environmentally friendly. 

Good value for the money.
Cons:
No built-in surge protector. 

Doesn't protect against Wi-Fi radiation.
1. Aulterra EMF Radiation Neutralizing Whole House Plug
The Aulterra EMF radiation neutralizer combines paramagnetic and diamagnetic elements that neutralize the harmful effects of electromagnetic radiation. The plug neutralizes the negative effect of DNA damage and other health issues associated with exposure to EMFs.
Vitro studies have found that the whole house plug can protect you from the damaging effects of RF and EMF. It also protects from electrical fields and thermal radiation emitted by electric devices.
It is easy to install and use. You can plug it into any standard power outlet and watch as it neutralizes all the damaging effects of EMF radiation in your room.
This neutralizing whole house plug does not affect the transmission of cell phone signals or the functioning of other electronic devices.
You can connect other EMF devices to it like laptops, TV, baby monitor, microwaves, etc. For maximum effectiveness, you can even have a neutralizer of each device you have in your home.
Pros:
Easy to install. 

Neutralizes EMF. 

Used with other radiating devices. 

Boosts sleep. 
Cons:
Doesn't have a built-in outlet.
Conclusion
With our move to using more energy-efficient appliances and other smart devices, we increase our exposure to unhealthy radiation. These home appliances contribute to higher amounts of electrical pollution in our homes.
Dirty electricity emitted by these appliances can have a negative impact on our health, especially if you are more sensitive to the effects. Using dirty electricity filters will help regulate the voltage in your home and make the environment cleaner. Investing in a good filter not only reduces dirty electricity, but it also reduces EMF radiation.
One of the best dirty electricity filters is the Greenwave filter. It helps regulate the flow of currents and lower levels of electrical pollution. I also love Aulterra's whole house plug, which offers excellent transmission strength while neutralizing all EMF effects. The above-listed filters all do a great job dealing with dirty electricity in your home and are great investments for your health.
Radiation from Domestic Appliances ...