In today's information age, personal data is easily available online. This recognition has led to increased cases of identity theft. Hackers can not only steal information from your computer, but also from your phone, tablet, and car key fobs.
In addition, these electronic devices expose us to a lot of harmful EMFs. Therefore, we require EMF Faraday bags and pouches to protect ourselves from the harmful effects of EMF, data loss, and identity theft.
Faraday bags and pouches are sold online and in almost all departmental stores. So, how will you know which is best for you?
In this article, I will guide you on how to identify a good Faraday bag/pouch. I will also list some of the best EMF Faraday bags and pouches on the market.
Read my best EMF farady bags and pouches review to find out.
What Is a Faraday Bag/Pouch?
A Faraday bag or pouch is a portable, tin-foil powered enclosure designed to block EMFs specifically. The cage acts as a sort of "airplane mode" for your phone and provides you with a safer environment free from EMF pollution.
The bag shields your cell phone, tablet, or laptop device from harmful radio frequency interference (RFI) and electromagnetic pulses (EMP). It prevents signals from RFI, EMP, and RFID from penetrating through the bag.
The Faraday bag/pouch also helps maintain the privacy of your personal data by preventing identity theft (RFID signals). It uses military-grade technology to block harmful EMF pollution from various electronic equipment.
A good EMF Faraday bag or pouch should shield you from RF signals, Wi-Fi routers, Bluetooth, GPS, and RFID (technology used by credit cards and car keys). So, if you want to block cybersecurity attacks on your electronic devices, then a Faraday bag will be of great help to you.
If you want to continue using your laptop and other electronic devices while on the go, then a Faraday bag will be of great help to you. With them, you can employ maximum security for your data while also shielding yourself from electromagnetic radiation.
The invention of smart car keys has made our lives much easier, but it has also brought up new ways for criminals to steal your car. Thus, having a Faraday bag will help solve this problem. Smart car keys use a unique frequency to open and start your car. Thieves have come up with a mechanism to hijack this technology by using a relay attack that copies that car key frequency. Once copied, they will only need to place the relay attack device near your car, and it will open in just a few seconds. With that, they can start your car and simply drive off with it.
The Faraday bag/pouch has a lined layer of metal that prevents car key theft by isolating the key and its unique frequency. This ensures the frequency isn't transmitted or copied.
How a Faraday Bag Works
Faraday bags and pouches have an interior lined with RF shielding material, such as silver or a Faraday fabric to block signals from penetrating into or exiting out of the pouch. The exterior of the pouch is made with materials such as canvas, nylon, or silicon.
A Faraday bag uses mesh fabric to form a continuous shield of conductive material that obstructs electrical currents from penetrating through, while protecting the interiors. If the Faraday pouch shielding material is exposed to electrical fields from external sources, then the conductive-shielding layer will capture these electrical fields and cancel their effects in the cage interiors.
Government agencies and military departments use Faraday bags to secure sensitive documents and other government secrets.
Watch this YouTube video to see how a Faraday bag works:
This small and portable bag can fit into your pocket and prevent hackers and other unauthorized personnel from having access to your data or tracking your phones and other devices.
The bag also ensures radiation signals emitted by your device do not penetrate through. For example, a Faraday pouch can block the RF signals emitted by your cell phone and prevent them from reaching you.
How to Choose a Good Faraday Bag or Pouch
Before buying a EMF-blocking bag or pouch, you will need to look at the following factors. These factors will help you make the right decision.
Trusted technology:

There are many manufacturers that claim their product will shield you from EMF. These could very well just be claims, and once you test the product, they may not work as expected.
Most trusted manufacturers for Faraday bags and pouches have the product submitted to the scientific community for lab testing. This would serve as proof that the products are real and can protect you from radiation exposure while securing your data from those with malicious intentions.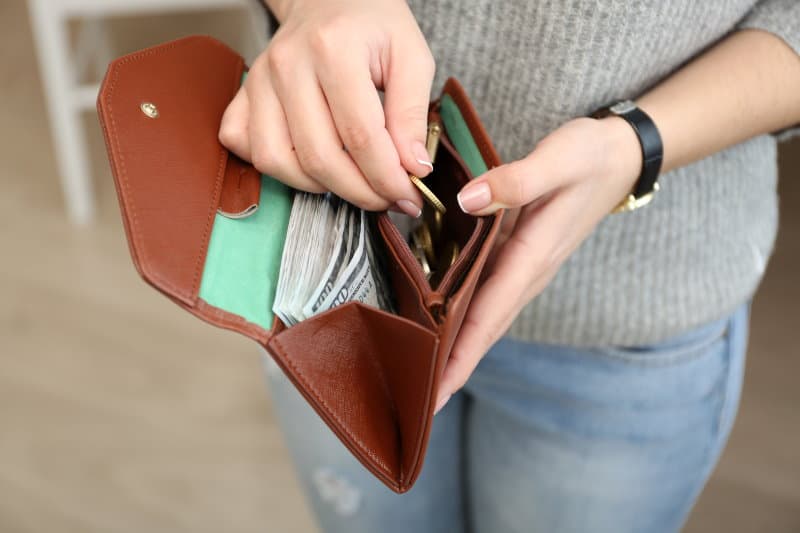 When buying a Faraday bag and pouch, transparency and legitimacy is crucial. You need a quality Faraday protection at a good price by a good manufacturer.
Signal-blocking:

When connected to Wi-Fi, data transfer can occur without your knowledge, and blocking signals to prevent data transfer is very important. And for this reason, you will need a Faraday bag or pouch to protect your personal data from unauthorized access. Hackers can gain access to your private data and other confidential information. Investing in these signal-blocking bags and pouches will ensure the privacy of your data and credit card information.

EMF-shielding:

Faraday bags and pouches not only block signals but also shield you from harmful electromagnetic radiation. Cell phones, tablets, laptops, and other electronic devices emit harmful radiation. Most of these devices emit RF, Bluetooth, and magnetic field radiation, specifically. Thus, the pouch must have a layer of anti-blocking properties that block radiation signals emitted by these devices. Carrying your cell phone or laptop inside the pouch/bag should reduce your risk of exposure to EMFs while on the go.  

Identity Protection:

Keeping your credit cards, identification documents, and other important documents inside a Faraday wallet or bag is the smart way to go. RFID chips inserted in your wallet or Faraday bag will secure your credit cards and other documents from theft attempts. If hackers gain access to your credit card details and identification documents, they can turn your life upside down within seconds.
Best Faraday Bags and Pouches
Faraday bags and pouches range in size, price, and blocking effectiveness. So, before choosing any bags or pouches, you need to do your research and read the reviews. Doing so will guide you in making the right choices. We will go over some Faraday bags you can look at in the next few sections.
7. BLACKOUT Faraday Cage EMP Bags Premium Ultra Thick
The blackout Faraday cage shields laptops, tablets, and cell phones from damage. The bag features a high-grade, anti-static material with a layer of aluminum fabric to enhance data protection.
It has a thick Faraday cage design that offers premium, heavy-duty solutions for your electronic devices. The interior has multiple layers of aluminum and a strong zip-lock closure to ensure your data and devices are stored securely.
This blackout Faraday cage bag comes in different sizes and, based on your needs, you can choose a size that accommodates all of them. Make sure you have the right size for your laptop, tablet, hard drives, smartphone, and other electronic devices.
The shielding bag is not designed to block radiation from cell phones and other Wi-Fi devices. Therefore, you won't be able to determine the effectiveness of the bag by measuring the microwave signals from your cell phone device.
Pros:
Available in different sizes.

Enhanced data protection.

Prevents damage to electronic devices.
Cons:
Doesn't shield against microwave transmissions.
This is Amazon's best Faraday bag, which doubles as a pouch and shielding wallet. The pouch is great for anti-tracking, anti-spying, and protecting car key FOBs. It uses Faraday chip technology to protect smart cards from hackers and RFID readers.
The ONEVER signal-blocking bag blocks RFID signals within 10 kHz to 30GHz. With this frequency, you can block radiation coming from 5G networks and cell phone radiation. The inner layer blocks signals, while the outer layer is used as a normal leather case.
You can also store key FOBs and credit cards inside the beige cloth pocket to protect them from unauthorized access. The signal-blocking layer blocks GPS signals and trackers to prevent hackers from compromising the security system of your car.
When you buy this ONEVER product, you will receive two signal-blocking bags, an 18-month warranty, and a user manual.
Pros: 
Easy to use.

Enhances privacy.

Wide compatibility.

Cheap.
Cons:
5. Silent Pocket Waterproof Faraday Military Dry Bag
The Faraday military dry bag is another waterproof bag from the Silent Pocket store. The bag is US-patented, making Silent Pocket one of the most trusted brands in the market.
Compared to the backpack model, this dry bag is budget-friendly, though slightly smaller than the backpack.
It is 100% waterproof, thus protecting your electronics and documents from the outdoor weather. If you love outdoor activities like kayaking, hiking, camping, or swimming, then the bag will keep your devices dry during those activities while also protecting them from hackers.
It uses military-grade Faraday fabric consisting of high-quality RipStop 210D Nylon TPU to block wireless signals. This dry bag is extremely durable and protects from hackers, tracking devices, eavesdroppers, and data theft.
The interior of the layered fabric protects you from radiation effects generated from cell phone devices, laptops, and other devices. The bag can block all signals, including RFID, Wi-Fi, Bluetooth, GPS, cellular signals, and radio waves.
An optional shoulder strap provides hands-free carrying when necessary. The shoulder strap gives you a sling option for carrying the bag, leaving your hands free to hold other items.
Silent Pocket guarantees you a high-quality bag that blocks signals and EMF radiation. If you're not satisfied with the bag, they offer a 100% money-back guarantee.
Pros:
Waterproof.

Budget-friendly.

High-quality Faraday protection.

Money-back guarantee.
Cons:
A bit small, so it can be tough to carry a laptop.
4. DefenderShield Cell Phone EMF Protection Radiation Blocking Pouch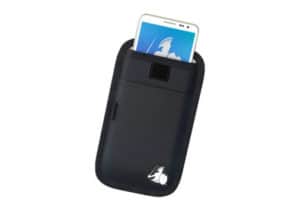 DefenderShield offers some of the best anti-radiation blocking devices on the market. Their EMF protection and blocking pouch shields from electromagnetic exposure from cell phone devices and while keeping your device secure.
The pouch is made from high-quality, multi-layered neoprene fabric that blocks 99% of wireless radiation within 300 Hz and 10GHz frequencies. It can block 5G wireless signals, cellular radiation, Wi-Fi radiation, and Bluetooth radiation.
It is available in small and large-sized pouches with an open-top design and strap that keeps your phone secure inside. You can also buy the medium-sized pouch with a magnetic flap and strap. The magnetic flap ensures your phone and credit cards are hidden and more secure. It also has a detachable strap that you can use to carry the pouch and free your hands.
It has a velcro loop that allows you to attach the pouch to your belt or on your bag. An additional front pocket allows you to fit in small items like your ID and credit cards.
Pros:
High-quality and durable fabric.

Anti-theft protection.

Available in different sizes.

Lab-tested technology.
Cons:
Available in only one color.

Slightly expensive.
3. Silent Pocket Faraday Waterproof Backpack
This is another military-grade pouch with a great design. Silent pocket Faraday bags provide you with a 100% waterproof design that shields from RF signals and RFID. The pouch holds a patented Faraday cage system, making it the sought after bag by federal agencies and defense forces.
With this pouch, you won't have to worry about theft of your sensitive data because it uses the trusted, military-grade fabric.
The pouch has plenty of space to fit your cell phone or tablet, along with some room for a few essential accessories. If you love outdoor activities, this is a perfect pouch for you!
The silent pocket Faraday backpack has rugged durability and is designed using RipStop 210D nylon TPU, which makes it more reliable and stronger. The interiors are designed with a layer of proprietary signal blocker technology that guarantees 100% protection from wireless signals. If you're not satisfied with this bag, silent pockets offer a 100% money-back guarantee.
The size is large enough to accommodate your laptop and other essentials. You can use it as a school bag, when traveling, or when going for a hike.
When carrying this bag, you won't have to worry about Wi-Fi, Bluetooth, RF, GPS signals, or blocked RFID signals.
Pros:
Waterproof design.

High-quality military-grade fabric.

Blocks multiple signals.

Durable.
Cons: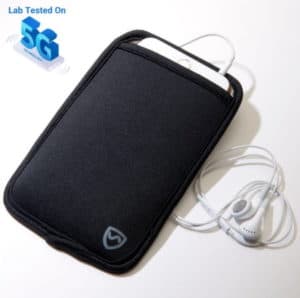 The SYB EMF protection sleeve and phone pouch are among the cheapest phone cases on the market. It offers powerful body protection against electromagnetic radiation emitted by your cell phone. The pouch has a shielding effectiveness of 99%.
The SYB phone pouch only shields you on one side, which is the backside between your cell phone and body. This blocks harmful electromagnetic radiation from being absorbed by your body while retaining your cell phone reception. That means this pouch doesn't interfere with your cell phone signals.
This pouch is available in a XL size for phones or cases with a width of 3.25in., although you can still go for a smaller size. So based on your cell phone size, you can choose any of these two size options and colors of your choice.
The high-quality, stylish, neoprene design makes this pouch suitable for men, women, and kids. It is an excellent protection tool for everyone, meaning you can also gift your loved ones with it.
This product uses real scientifically proven anti-blocking technology. The superfine mesh of metallic fibers lined on the pouch's interior blocks EMFs radiation. SYB offers a lifetime warranty to those who buy this EMF protection pouch in case they are unhappy with the results.
The pouch includes a belt loop to attach to your belt, along with an open-top design that makes it easy to connect chargers and headphones to your cell phone, as needed.
Pros:
High-quality metallic fibers.

5G tested.

Lifetime warranty.

Excellent signal transmission.

Powerful EMF protection.
Cons:
Only shields radiation on one side.
1. Mission Darkness X2 Faraday Duffel Bag
The MissionDarkness duffel bag is one of my best EMF protection bags in the market. It is versatile with a rugged build.
Its large capacity enables the bag to accommodate more items and ensure they remain secure from prying eyes.
Once you buy this Faraday bag, you get an extra smaller Faraday pouch, which is attached securely as a side compartment using molle straps. You can easily disconnect the straps of the side compartment from the main bag when not needed or when you want to carry only the Faraday pouch.
The bag has an unshielded zipper compartment on one side and a transparent pocket where you can place other items.
Both bags have a high conductivity shielding material that protects from cellular signals, Wi-Fi radiation, Bluetooth signals, GPS, RFID, and RF signals. The shielding fabric has an average attenuation of 60-80dB.
This military-grade bag has an outer layer made from a ballistic nylon shell, making it more durable and effective. The interior of the bag features two layers of high-shielding TitanRF Faraday fabric.  The bag is lab-tested and compliant with MIL-STD-188-125 specifications.
Therefore, it not only shields you from electromagnetic radiation, but you can also invest in this duffel bag to keep your sensitive data secure from prying eyes.
It is quite comfortable to carry around. The bag comes with a removable shoulder strap that you can fix any time you need to.
Pros:
Military-grade protection

Blocks RF signals and RFID signal

Large carrying capacity

Extra Faraday pouch
Cons:
Expensive

Doesn't shield 4LTE Verizon Network
Conclusion
Faraday bags and pouches provide a great way to protect electronic devices and credit cards. Finding the right bag/pouch for you will depend on your budget and the size of the bag you need.
I love the Mission Darkness X2 Faraday Duffel Bag because its trusted technology blocks RF signals, Bluetooth, RFID, Wi-Fi, and GPS signals. I also recommend the SYB Phone Pouch, which can block RF signals from your cell phone device and protect against data theft.
Based on your uses and priorities, you can choose any of the above Faraday bags and pouches and shield yourself from both radiation and data theft.  
Radiation from Domestic Appliances ...