Are you a fitness freak? Do you keep track of all your daily routines and what you eat? Then a fitness tracker is a must-have tool for you! Fitness trackers are programmed such that they keep track of your workouts, count your daily steps, monitor heart rate, eating habits, and sleep patterns.
Modern fitness trackers are a source of unnecessary EMF radiation. However, there are EMF free fitness trackers in the market.
Want to know the best EMF free fitness trackers that give you the best results at the same time reducing your radiation exposure? Keep reading! 
Fitness Trackers and EMF Radiation
Fitness trackers have become very popular over recent years. This has led smartwatch manufacturers to include fitness tracking capabilities to their smartwatch. Fitness trackers also have features like those of the smartwatch.
So whether you're wearing a smartwatch or a fitness tracker you will be able to track your workout activities, movement, heart rate, calories burned, etc. Fitness trackers like Fitbit and Apple watch do emit electromagnetic radiation.
I have written detailed articles on Fitbit EMF radiation risks and Apple watches EMF radiation. You can have a look at them and learn more about the potential dangers of radiation from these devices.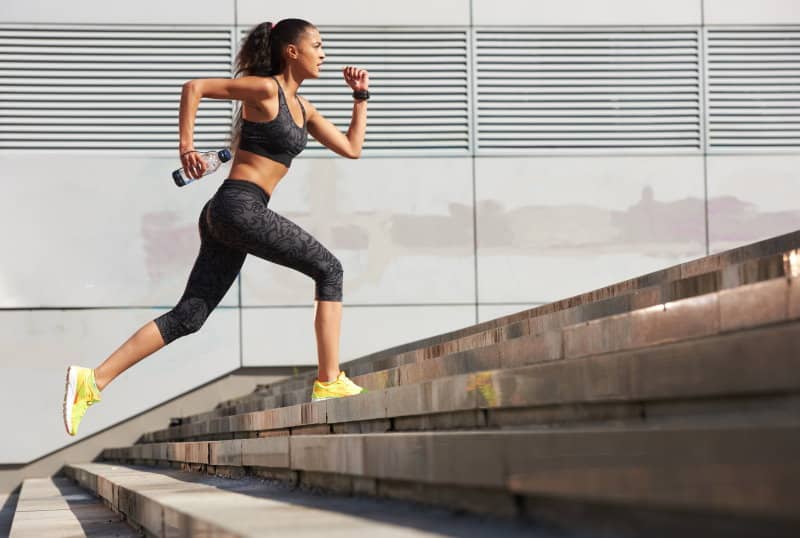 These fitness watches have a Bluetooth feature to connect to your smartphone or laptop and this acts as the source of electromagnetic radiation. Although Bluetooth connectivity brings a lot of conveniences, it can cost your health. The harmful radiation emitted by the device can cause fertility issues, promote the growth of tumors, increase the risk of cancer, and other health issues.
In this article, we will focus on radiation free fitness trackers in the market. Some of these devices do not have the Bluetooth feature, while others have an option to disable it. So if your health is a top priority, you should consider one of these Bluetooth-free fitness trackers.
Further, these trackers measure your daily activity using a gyroscope to sense your movement and know whether you're running or walking. This process doesn't pose any health risk to you. Therefore, it is only the Bluetooth connectivity to the companion app that makes fitness trackers unsafe.
Best EMF-Free Fitness Trackers
I have made a list of the best fitness trackers that have no Bluetooth. For those with Bluetooth or Wi-Fi features, you can easily disable them and enjoy radiation-free tracking of your movements and workouts. Since you wear the fitness gadgets on your body 24 hours a day, keeping Bluetooth on will constantly transmit radiation near your head and other body organs.
They also give you accurate results and they don't have to constantly sync with your smartphone device like the Fitbit tracking device.

Garmin Vivosmart fitness tracker allows you to disconnect the Bluetooth feature and it is quite affordable. It is very easy to switch off the Bluetooth feature in this device. You only need to "long-press" the touch screen until the settings window pops up. Scroll down to Bluetooth settings and turn it off.
If you want to sync the device, you have to manually switch on Bluetooth whenever needed. Other features included in this fitness tracker include the calorie tracker, step tracker, and altimeter that monitors the number of floors you have climbed. It also has a vibration alert feature to let you know when you should wake up and stretch after sitting for a longer time.
It's also swimming friendly and has a sleek band that is comfortable to wear all day. You can also receive texts, calls, alerts from social media, and more.
Garmin VivoSmart is among the most popular fitness trackers and budget-friendly watches. It can track all your daily activity even when the Bluetooth is disabled. You can download all the daily activity on your phone for further analysis.
Pros
Ease of use
Waterproof
Sync with your smartphone
Cons
This is another fitness tracker watch with excellent features. It allows you to disconnect the Bluetooth feature when not needed.
This water-resistant fitness tracker allows you to get into the pool up to a 50 meter depth, or take a shower with it. It is also dust resistant.
Samsung Gear Fit2 Pro smartwatch has Under Armour powered fitness apps like MyFitnessPal that allows you to stay on top of your nutrition. Other features include GPS mapping, heart rate monitor, daily calorie burn report, a movement tracker, standalone music player, and a long-lasting battery. Since you can easily disable the Bluetooth feature, you don't have to worry about electromagnetic radiation emissions.
It is compatible with Android OS and iOS smartphones. Some of the apps require an additional subscription at an added cost making it the most expensive fitness tracker in the market.
To disconnect Bluetooth, swipe left on the screen until you get to settings. Locate the Bluetooth feature and uncheck the box button to disable it.
Pros
Advanced tracking features
Supports multiple subscription apps
Long-lasting battery
Cons
Expensive
Not suitable for diving
OZO fitness pedometer is a perfect companion that allows you to achieve your daily running, jogging, and walking goals. Uses advanced 3D Tri-Axis sensor to accurately measure your daily steps, calories, and distance covered. 
This fitness tracker doesn't have a Bluetooth feature so you don't have to worry about exposure to electromagnetic radiation. It is also easy to set up and use. You can easily get started with this type of pedometer.
The built-in clock automatically resets the track at midnight. So you will always have a fresh tracking activity each morning.
The large LCD display and large buttons make it easy to read, program, and view different modes. Large size buttons make this type of pedometer highly preferred by the elderly or kids.
If you're looking forward to gifting your loved ones a fitness tracker this Christmas, you should consider the OZO. It is comfortable to wear and budget-friendly.
Its 7-day memory log allows you to keep track of the calories you burn, activity time, distance, and even your workout speed. If you don't want to record a certain activity, you can pause the sensor. For example, when driving a car or riding on a train.
Pros
Easy to use and set
Automatic reset
Comfortable
Cons
Just like the OZO CS2 digital tracker, the CS1 simple step tracker has a built-in lanyard cord that makes you more comfortable while walking.
The 3D pedometer only tracks your steps and doesn't require any programming so it is ready for use within 5 seconds or less. No apps or Bluetooth are required for the device to work. You can also use the 1-button at the back to reset your walking steps count to zero.
This unit gives you accurate results and you can easily put the tracker in your pocket or hang around your neck. 
OZO CS1 has a long-lasting battery and an auto-dimming screen that reduces power usage when not active. Once the pedometer detects your movement, it comes to life and starts recording your steps.
You can accurately record your movements using this simple step tracker. Anyone can use it including the elderly and the kids due to its large screen. It is also cheap, easy to use, and available in a variety of colors.
Pros
Long-lasting battery
Built-in lanyard cord
No programming required
Cons
The Willful non-Bluetooth fitness tracker is a stylish and simple device you can use to track your activities. It doesn't require a Bluetooth connection, an app, or a phone to operate, so you don't have to worry about any RF emissions.
Using this fitness tracker, you can easily track: your steps, distance covered, heart rate, activity time, calories burned, and even sleep quality among others. It uses HR sensors to provide you with accurate and effective results.
Most fitness trackers do not track your sleep pattern so if you want to track your sleep then you should consider this tracker. The tracker automatically detects when you sleep and analyzes your sleep quality. It also has a silent vibration that wakes you up without disrupting the sleep of those around you. 
In addition, the tracker is water-resistant and has a long-lasting battery. It has a built-in USB port, and you can remove the bands and use any USB charging plug to charge the watch.
Pros
Tracks your sleep pattern
Easy to use
Water-resistant
Built-in USB
Cons
Not suitable for hot water use
Not suitable for diving
IGank is another fitness tracker with a soft rubber strap. Both adults and kids can wear this type of watch comfortably and track their activities.
It uses a 3D advanced motion sensor to track your walking distance, track your steps, and calories burned.
IGank fitness watch has a strap made of soft silicon rubber and it has a UV curing scratch proof screen that makes it suitable for kids. Also, it features a large display screen making it more fashionable.
You don't need any Bluetooth connectivity, an app, or a mobile phone for the watch to operate. It's very easy to use, you just wear it daily and track your activities.
The battery is made of high-quality polymer lithium that makes it last up to 15 days before requiring a charge.
Pros
Easy to use
Long-lasting battery
Track all your daily activities
Cons
Doesn't have a sleep monitoring feature
The Mijiaowatch fitness pedometer has multiple features and is user-friendly. You can easily use the tracker to accurately monitor the number of calories burned, distance covered, steps taken, and exercise time.
It has a built-in silent vibration mode that gently vibrates to alert you of texts, calls, or remind you of a certain activity. The pedometer is highly sensitive and it's able to capture any slight movement.
Mijiaowatch is water-resistant to a depth of 50 meters so you can wear it when swimming or cleaning. However, you can't use it in hot water baths or in saunas. It's also not suitable for diving and you shouldn't press any button when underwater.
Straps are made of soft high-quality silicone material that makes them durable and comfortable to wear. This makes them suitable for wear by kids and they're environmentally friendly.
The watch also comes with a 12-month warranty so you're guaranteed total satisfaction with this brand of fitness tracker.
It has a long-lasting battery and it is easy to charge. You don't need any cables. All you need is to detach the strap and plug the USB plug into any USB port.
Pros
Waterproof watch
User-friendly
Long-lasting battery
Durable
Cons
Not suitable for diving
Not suitable for hot water use
Conclusion
Having a fitness tracker will help you to stay in shape by monitoring your daily activity so you can keep track of your progress. Fitness trackers with Bluetooth and Wi-Fi capability do emit electromagnetic field radiation. However, disabling the features can reduce your risk of exposure.
Therefore, when buying a fitness tracker make sure it allows you to disconnect the Bluetooth and Wi-Fi features. You should turn them on when you want to sync the device with your phone and access data.
Not all fitness trackers need Bluetooth features to operate because the devices do not need Bluetooth to track data. The trackers can also operate without a phone.  For example, Garmin VivoSmart HR + Regular Fit Tracker has advanced features and it is water resistant if you like to include swimming as part of your exercises.