Recently, there has been an increased concern about the effects of EMF. Either at the home, in the office, or on the road, you're exposed to a lot of electromagnetic radiation. For this reason, many people, including myself, are taking steps on how to reduce their exposure.
One great way to limit this exposure is through the use of EMF-shielding fabrics. The fabric acts as protection material against EMF.
The best EMF-shielding fabric consists of a conductive Faraday material to reduce electromagnetic radiation from smart meters, cell phones, Wi-Fi routers, and other electronic devices effectively.
Read our best EMF-shielding Blankets review to find out.
What Is EMF-Shielding Fabric?
EMF-shielding involves various practices carried out to reduce electromagnetic field radiation. The shielding materials are made of magnetic and other conductive materials.
You can use EMF-shielding fabric in any room of your home, and it can be particularly great when used in your bedroom. When you sleep, your body restores itself from any daily damage, including damage from EMF radiation emitted by various electronic devices. This is the reason you should have EMF-shielding fabric in your bedroom to minimize your exposure.
You can hang EMF-shielding fabric on the wall, especially if your bed is directly opposite where you installed a smart meter or solar system. You can also use a protection blanket. Personally, I have an EMF-shielding blanket that I use in my bed. The blanket and other shielding fabrics not only protect you within the room, but it also shields you against Wi-Fi signals from your neighbor's network.
EMF-shielding fabric can be placed over or wrapped around your cell phone, Wi-Fi router, and other radiation-emitting devices.
Do EMF-Shielding Fabrics Work?
Some shielding fabrics are effective, though others do not reduce electromagnetic radiation. To know whether your fabric works or not, you can use an EMF meter. The best EMF meter out there that you can try is the TriField TF2, which can measure electric fields, magnetic fields, and radiofrequency radiation.
Although this EMF meter is a bit pricey, there other, more budget-friendly meters you can use to measure the exposure levels, like the TACKLIFE EMF Meter.
Once you have bought your EMF meter, you can measure how effective a certain fabric is in shielding you against electromagnetic fields. For example, you can test exposure levels without and after using the EMF fabric.
How to Choose the Best EMF-Shielding Material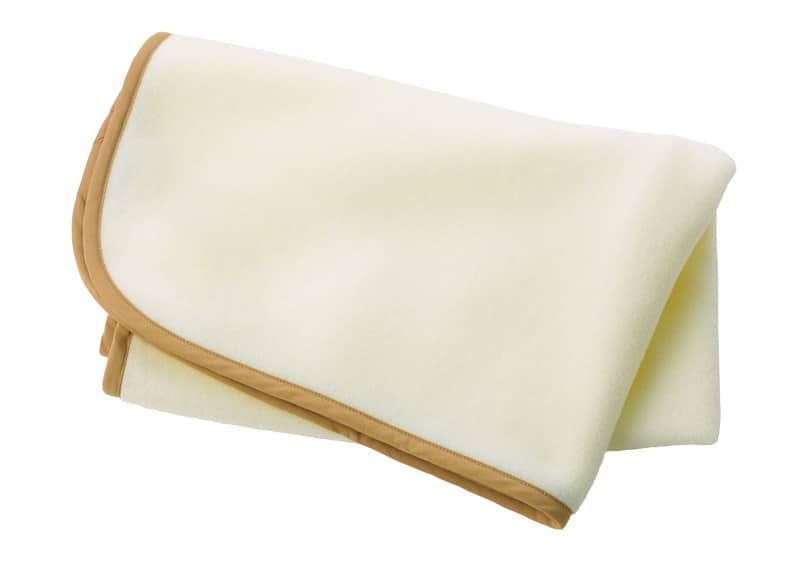 Electromagnetic radiation is everywhere. Most home appliances, cell phones, laptops, iPads, powerlines, and other electrical devices emit some kind of electromagnetic radiation. These devices expose us to high levels of ELF, RF, and EMR that cause various health problems.
It is hard to stay away from these devices, and the reason why we need EMF protection devices is to mitigate the risk. There are various EMF-shielding devices on the market, and the efficiency of each shielding material depends on the specific fabric used in designing it.
When looking for the anti-radiation material, you should focus on the intensity of the radiation, radiation frequencies to shield, and whether the field to protect has electrical fields, magnetic fields, or both.
Your choice of EMF-shielding fabric will be determined by:
Metal conductivity:

Most EMF protection products are made from metal, which acts as a Faraday cage to shield you against EMF. Therefore, you should look at the metal conductivity, thickness, and permeability within the design of the shielding fabric.

Type of material:

There are shielding fabrics made from cotton and mesh materials. Shielding materials made from cotton are more efficient and long-lasting; the shielding fabrics that use mesh material are the most breathable and can shield against electric and magnetic fields.

Type of metal:

The type of metal used affects the shielding efficiency of the fabric.Some metals, like aluminum and galvanized steels, have high conductivity, and fabrics made from these metals will be more efficient. Materials made from copper metal can shield from radiofrequency radiation and magnetic waves.

Thickness:

Thick fabrics make the edges remain intact and do not fringe, although this depends on the kind of material.

Effectiveness:

What is the shielding effectiveness of the fabric?

Machine washable:

Can you machine wash the material or not?

Pre-constructed product:

This determines how the electric field shielding is incorporated.
Best EMF-Shielding Fabrics
Here are some of the best EMF-shielding fabrics on the market. The list includes unique features of each brand and what makes them each the best protective product. Go through each of the shielding fabrics and make your decision.
The adult EMF protective blanket from Breezy Baby is the last protective fabric on this list.
It is one of the most powerful protection products on the market. The blanket is made of 100% pure silver fiber, which is woven into an organic blanket to form a protective layer for you and your family. Fabrics made of real silver are the best for protecting and blocking different forms of electromagnetic radiation.
The adult anti-radiation protective blanket can shield you against 99.9% of harmful EMF, EMR, and pollution from various electronic devices. It uses universally accepted science of woven silver fiber to form a layer that can also protect you from RF, magnetic fields, electric fields, microwave signals, and ELF radiation.
You can use this EMF blanket for a wide range of purposes, like when sleeping, on the couch, and in your car, and you can bring it with you everywhere you go. It can also be used during pregnancy and after delivery to protect your child. All you need to do is wrap the blanket around you while working or when in the office.
In addition, the adult protective blanket has a lifetime guaranteed warranty. Sleep Baby offers you a 100% satisfaction guaranteed on the product. If you're not satisfied with the product, you can get the product completely refunded. 
Pros
Cons

Superior quality.

Excellent protection against harmful EMFs.

Super soft and comfortable.

Lifetime warranty.

Great customer service.

Very expensive.

Doesn't shield well against ionizing radiation or high-frequency radiation.
Radia Smart's anti-radiation baby blanket is made from soft, organic, cotton material to protect your baby and pregnancy from harmful effects of radiation.
The blanket is lined with a reliable silver material that shields you from EMF radiation. It is lab-tested by accredited firms and shields about 99.9% of RF and Wi-Fi radiation emitted by cell phones, tablets, or laptops.
One thing I love about this anti-radiation blanket is how it neutralizes electromagnetic waves and reduces your exposure during pregnancy and after the baby arrives. Children are at a high risk of exposure since their bodies and brain cells are still developing. Thus, investing in a 5G EMF protection blanket will lower their radiation exposure.
The blanket is extra large to accommodate your growing child. You can also place the blanket between your body and laptop or tablet when sitting on the couch. 5G protection blanket can be used as a play mat, baby blanket, or swaddle wrap.
With this type of blanket, you don't have to worry about exposure. If you're not satisfied with its effectiveness, you can return it and get a refund.
The RadiaSmart anti-radiation blanket is available in two colors: silver and ivory.
Pros
Cons

Super soft and comfortable.

Excellent EMF protection.

Lab-tested 5G technology.

Doesn't shield against x-rays and other high-frequency/ionizing radiation.

Not 100% effective.
This is another anti-radiation shielding fabric made of 20% conductive copper metal and 80% of polyester material. The shielding sheet can shield you from 10MHz to 5GHz frequencies, thus making it suitable for protection against Wi-Fi routers, cell phones, and other electronic devices.  
The EMF protection fabric is used to cover radiation-emitting devices or your walls and windows in order to prevent wireless radiation signals from penetrating into your room. You can use the shielding fabric to make maternity clothes, curtains, cell phone cases, computer covers, radiation protection suits, among other items. You only need to cut it to your desired size and make your protection suit or cover.
As technology continues to develop every day, hackers are also becoming more creative, hence the need to come up with mechanisms that will protect our electronic equipment and personal information. The NEWBEAU EMF protection fabric is widely used in making RFID anti-theft wallets, passport covers, waist bags, and more. The anti-theft wallet prevents hackers from having access to your credit cards, passport information, and other private information.
Buy this high-performance, Faraday protection fabric and enjoy high-quality protection. If you're not satisfied with the product, you can return it and get a refund. As amazing as this fabric's capabilities are, it's important to note that its effectiveness can be weakened by water. 
Pros
Cons

Multiple uses.

High-quality fabric.

Excellent for reducing EMF radiation.
The Cuaocos EMF protection natural wellness sheet uses grounding principles to neutralize radiation effects and improve your health.
This protection sheet has a grounding cord material made from 95% organic cotton and 5% pure silver fiber. The silver wires crisscross on the grounding sheet, forming good conductivity and making it great for grounding functions.
The sheet has a grounding strip that is connected to the grounding cable on one end. The other end needs to be connected to the grounding jack for maximum grounding benefits.
The grounding process utilizes natural energy from the earth to improve your health. If you have this grounding sheet in your home, it will help eliminate harmful radiation waves and you can stay healthy.
The grounding effects also contribute to improved sleep, increased blood circulation, reduced pains, and healing of wounds.
You don't have to worry about exposure to harmful free radicals within the surrounding environment; all you need is this grounding EMF protection sheet, and you're good to go. It is also easy to use and is very convenient.
Pros
Cons

Simple and convenient to use.

Scientific grounding functions.

Improves health.

Reduce muscle pains and other body aches.

Eliminates harmful free radicals and negative charges.

Sheets shrink by 4-6% after wash.

Not the softest option.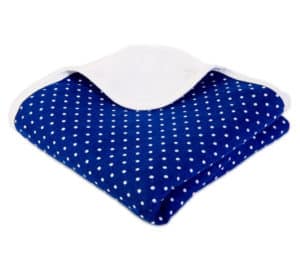 This SYB baby blanket is ideal for protection against EMF radiation. You can use it as a nursing cover, trolley cover, to cover the baby when sleeping, swaddling, or as a car seat cover.
The shielding material protects your baby from up to 99% of EMF radiation, which can come from baby monitors, Wi-Fi routers, cell phones, and wireless technologies.
The blanket is made of soft material for more comfort. Its outer layers are made from high-quality, hypoallergenic cotton flannel soaked in a non-toxic dye, with the inner layer being made from cotton spun consisting of 18% silver thread.
It also comes with an attractive, durable, and sturdy box with a magnetic closure.
With a blanket, you can safely install a Wi-Fi baby monitor without worrying about the damage it can cause to your child. It is also suitable for multiple uses, and you can carry it with you wherever you go. Pregnant mothers can use it to shield the fetus from harmful electromagnetic waves.
SYB baby blankets are also easy to clean. You can machine or hand wash it with cold water and air dry. 
Pros
Cons

Sturdy material.

Reduces radiation up to 99%.

Smooth texture.

Available in multiple colors.

Lifetime warranty.
If you're looking for a trusted EMF protection product, then TitanRF Faraday fabric is one of the best shielding fabrics on the market to look out for.
It uses military-grade conductive material to offer maximum protection against EMF radiation. The fabric is MIL-STD-tested and certified using 188-125 specification, guaranteeing excellent performance.
TatanRF Faraday fabric is made from copper and nickel metals and can shield you against RF signals, Wi-Fi radiation from 2.4GHz and 5GHz frequencies, Bluetooth signals, RFID, and other 5G networks. You can also use TitanRF Faraday fabric to shield your home and office from EMFs, EMR, and RF waves.
The fabric can also be used to make a Faraday bag, RFID anti-theft wallets, signal-proof tents, and other radiation protection material. 
Pros 
Cons

Excellent performance.

Shields against high-frequency EMFs.

Lightweight.

Easy to cut.

Large size.

Doesn't block extremely low frequencies completely.

May cause overheating of microwaves.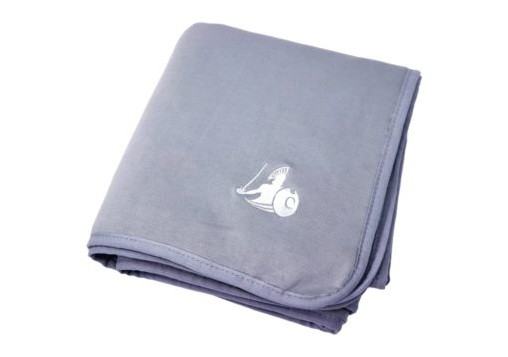 The DefenderShield EMF protection blanket is one of my best EMF-shielding blankets on the market. Whether you're at home or on the go, you can use this blanket to shield you against exposure.
DefenderShield is a well-recognized and world-wide leader in designing EMF protection products, so you definitely won't have to worry about radiation with this blanket.
One thing I like about this blanket is that I can use it as a throw cover, baby blanket, or a maternity blanket. So, whether you are traveling or at home, you can use this blanket to shield yourself from cell phone, tablet, laptop, and Wi-Fi radiation, among other radiation-emitting devices.
The blanket protects you against wireless radiation, including 5G frequencies. It has multiple layers of protection and blocks up to 99% of RF radiation, along with other forms of radiation emitted by other electronic devices.
These multiple layers are hypoallergenic, and the exteriors are made of non-toxic organic bamboo to shield you while also making you comfortable and warm.
You can use this blanket to protect yourself from ambient emissions within your surroundings. The 5G radiation shielding material is suitable for both full and queen-sized beds, providing you with full-body protection.
The hooded corners make the blanket perfect for pregnant women and children. When using your tablet or laptop, you can cover yourself with a small-sized blanket and continue to work, watch, or play without worrying about any radiation.
Pros
Cons

Multi-layer shielding technology.

Excellent protection against wireless technologies and 5G frequencies.

Soft and comfortable.

Different uses.

High-quality fabric.

Lightweight.

Available only in gray.

Only suitable as a throw blanket, since it's not very large.

 
Conclusion
Since electromagnetic radiation is everywhere, you will need to take measures to protect yourself and your loved ones. 
Sometimes, it is difficult to maintain distance between you and the radiation-emitting devices. For this reason, EMF protective fabrics will be a great help to you. EMF-shielding fabrics are made from conductive metal that can block out any radiation you're exposed to. 
DefenderShield EMF Radiation 5G shielding blanket is one of the best shielding fabrics on the market, and it can shield you against 99% of RF signals from Wi-Fi and Bluetooth devices. There are other great shielding fabrics like TitanRF Faraday fabric too, however, if they fit your priorities better. Just like DefenderShield, this shielding fabric uses military-grade protection and has a wide range of uses.
Based on your needs and budget, you can decide on which EMF protection fabrics out there will fit you best.