Due to increased concern about the effects of electromagnetic fields, there are more EMF protection products out in the market now. EMF-shielding paint is among the protection products that can shield you against EMFs from external sources.
Your neighbor's Wi-Fi signals and radiation from baby monitors can penetrate through the walls. Therefore, you need to coat some portions of your wall with a thick layer of EMF-shielding paint to block EMFs from these external sources.
Different brands of EMF paints block radiation based on specific frequencies. However, the best EMF-shielding paint should be able to block both high and low-frequency radiations.  
Read my best EMF-shielding paints review to find out.
What Is EMF-Shielding Paint?
EMF-shielding paint is a form of conductive paint applied on walls to block electromagnetic radiation. It prevents radiation frequencies from penetrating through the walls and entering your home. EMF-blocking paint is usually black in color, and it is applied just like you would apply normal paint.
Once you coat your room with the paint, a certain range of frequencies will not penetrate or exit the room. So, if you paint only one wall especially where you have installed your smart meter, then the wall will repel the signals.
Painting all the walls means no signals will enter or exit the room, thus creating a dead room; however, you need to be careful not to have other radiation-emitting devices inside the room because the signals will be trapped inside, putting you at a higher risk of exposure.
Some manufacturers only design EMF paint that blocks radiation within a certain frequency range. As a result, you may experience some interference with your wireless technology.  
Most EMF-shielding paints can block high-frequency electromagnetic fields, low-frequency electrical fields, magnetic fields, and radiofrequency radiation.  
How It Works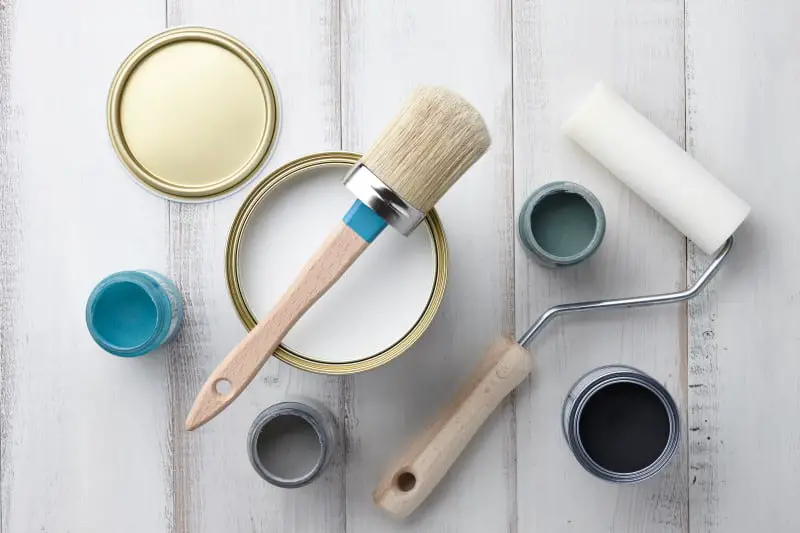 Just like how you would apply normal paint, you can apply this paint on the walls, then install the grounding plate.
One layer of paint is enough to shield against the harmful effects of EMF. Adding another layer will provide you with even better protection. After the EMF paint dries, you can paint a regular color of your choice as the top coating.
Some EMF-shielding paints require grounding for them to achieve attenuation. It's not just about painting the surface with the conductive paint; you have to go the extra step of grounding to achieve safety and compliance to standard building codes. In this case, grounding requires a certified technician.  
So, before painting the wall, apply the grounding strap along the surface of the area to paint. If the wall has an electric outlet, then the grounding strap should be near the outlet.
You will also need a ground plate to be installed after applying the paint. Only licensed technicians are allowed to do grounding.
You can find a grounding plate from the manufacturers that sell EMF-shielding paints. To obtain the best results, make sure to get the grounding plate from the same manufacturer you bought the EMF paint from.
Once you have laid down the paint and installed the grounding plate, you can measure the effectiveness of the paint. This is possible through the use of EMF meters like the TriField TF2, which measures radiation levels around your home. A good EMF meter should be able to measure electric fields, magnetic fields, and radiofrequency radiation. It makes it easy to detect ELF electromagnetic fields and RF.
Always take measurements before and after applying the paint, and then compare them.
Best EMF-Shielding Paints                            
EMF-shielding paint products require a huge investment, and you want to be sure that the product you buy will work and give you value for your money. To make your work easier, I have compiled a list of the best EMF paints and brands on the market.
7. MG Chemicals Super Shield 845AR
MG super shield paint is great for painting smaller spaces like electronic enclosures, but you can still use the paint for interior walls.
It can block RF radiation from devices with a frequency range of 10MHz to 1.8GHz. The super shield paint is acrylic with a silver-coated, copper conductive coating, and it has a metallic brown color.
Although there is not much information about this product on their website, those who have tried it claim it works.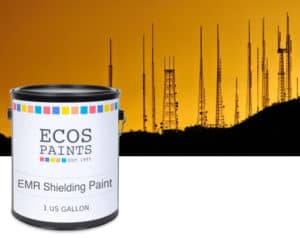 The ECOS EMR protection paint uses high-quality nickel pigment to protect you against RF, EMF frequencies, and EMR (electromagnetic radiation).
This shielding paint has a dark gray color and is suitable for printing primed walls, ceilings, and floors. The paint is odor-free, so if you're affected by painting odors then this type of paint may be great for you.
The EMR and EMF-blocking paint consists of conductive material that blocks cell phone signals, 5G signals, Wi-Fi signals, and other electromagnetic radiations.
This paint uses a water-based solution with high-quality nickel pigmentation to offer excellent shielding results. The nickel compound is corrosion-free, and a single layer coat can provide attenuation of 30.6dB and effectiveness of 99.9%. A two-layer coat offers 99.99% effectiveness.
This product was independently tested to conform to VOC emission CDPH 01350.
Pros:
Superior shielding results.

No odors.

Non- toxic.

Zero VOC.
Cons:
This is a reliable paint that will shield you against high-frequency radiation and radiation from low-frequency electric fields.
It has a shielding effectiveness of 99.98% for devices transmitting between 1GHz and 18GHz with a single layer of coating. A double layer of coating will provide shielding effectiveness of up to 99.996% for 1GHz to 18 GHz frequencies.
The painting mixture doesn't have any metals, making it corrosion-resistant. It is solvent-free, breathable, and has a low odor.
Unfortunately, the Gigahertz shielding paint has 100% permeability and is not ideal for applications that use mineral plasters or those that have mineral clay, lime, and silicate coating.
You will need a certified technician to help you with grounding tasks. The professional should also ensure the set up is compliant with recommended mounting standards.
Pros:
Great results.

Free from metals.

Easy to paint.

Corrosion-resistant.
Cons:
Not suitable for airless spraying. 
4. StewMac Conductive Shielding Paint
StewMac paint is ideal for shielding your pickup, any tight spots, and control cavities. The water-based solution can be applied to the interior and exterior surfaces.
Adding two or more coats on the surfaces can help you reduce radio interferences, noise from external sources, and other interferences.
The paint is ideal for smooth surfaces; therefore, if you're shielding a smooth plastic pickguard, then the StewMac conductive shield will deliver great results.
The only downside with this type of paint is the chemicals contained in the paint. California State classifies the chemicals as cancer-causing agents that may also cause birth defects and other reproductive problems.
Pros:
Great for smooth surfaces.

Shields guitars and bass cavities.

Reduces noise and radio interferences.

Dries within 24 hours.
Cons:
Contains known cancer-causing agents.

May cause birth defects.
3. ShieldON EMF-Shielding Paint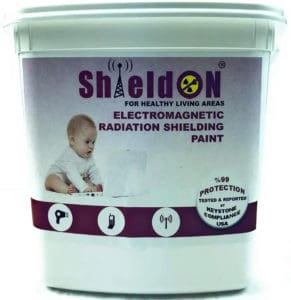 ShieldON EMF-shielding paint is another environmentally friendly anti-blocking product. Just like other shielding paints, a single layer of ShieldON paint can block up to 99.98%, while a second layer will have an effectiveness of about 99.995%.
This EMF radiation shield can block frequencies of up to 18GHz. This makes it great for shielding against radiation from cell towers, Wi-Fi radiation, microwave signals, RF signals, and frequencies from any remote-controlled device.
The ShieldON EMF protective paint is easy to apply, durable, and water and corrosion-resistant. The paint mixture doesn't have any toxics and contains a high-quality acrylic binder that will make your surfaces look great. The surfaces are also very highly conductive.   
This type of paint is formulated for interior and exterior applications. Its carbon composition absorbs RF signals from the surrounding area, thus reducing your exposure to them.
The water-based solution can be covered with a coat of any colored, latex-based paint. It also needs appropriate grounding done by a professional.
Pros:
Highly conductive.

Water and corrosion-resistant.

Easy to apply.

Wide application.      
Cons:
2. WOREMOR RF-IE50 EMR & RF Shielding Paint
Just like the YShield paint, WOREMOR EMF paint shields you against RF and RFID with an effectiveness of 99.98%. The paint has an attenuation of 37dB when a single layer of paint is applied. If you apply two layers, the blocking effectiveness increases to 99.995% with an attenuation of 44dB.
In addition, it blocks signals from RFID scanners used by unauthorized individuals (hackers). With this paint in your home, you don't have to worry about someone stealing your confidential data or credit card details.  
This EMF paint doesn't have any metallic particles, allowing it to have great corrosion resistance while reducing oxidation.
The paint is made from a mix of water, graphite, carbon black, pure acrylic binder, and additives, thus making it long-lasting and durable. There are no toxic substances or plasticizers in the mixture, which also means it's environmentally friendly.
Its constant attenuation and shielding frequencies of up to 18GHz makes this type of paint to be effective in shielding against 5G technologies and future telecommunication developments with higher gigahertz frequency ranges.
The paint should be grounded using a EB2 grounding strap and GW grounding plate.
Pros:
Excellent protection against RF and other wireless signals.

Environmentally friendly.

Easy to apply.

Shields against identity theft.
Cons:
Expensive.

Requires an extra cost for grounding materials.
1. YShield EMF-Shielding Paint HSF54
This EMF-shielding paint is suitable for both interior and exterior applications. The paint doesn't contain any metal particles, so you won't have to worry about oxidation risk.
Its excellent qualities can protect you against RF, microwaves, and low-frequency electric fields. Applying one layer to the wall will give you 99.987% shielding effectiveness and attenuation of 39dB.
For the total shielding of different forms of radiation, you need grounding paint, and make sure a professional technician does it. Included in the packaging is a step-by-step guide on how to do the grounding.
You can apply YShield paint as the prime coat or as a cover on the interiors of your room. The paint has good adhesion that makes it water-resistant, corrosion-resistant, and environmentally friendly, since there are no harsh chemicals in the paint.
It is easy to apply and more effective in blocking Wi-Fi signals from your neighbor's router. For the best results, make sure every part of the surface is painted or sprayed. If you need a topcoat, the manufacturers recommend using silicon or water-based paint.
Pros:
Water-resistant.

Environmentally friendly.

Shielding effectiveness of 99.987%.

No smell.
Cons:
Not listed in UL or CSA.

Expensive.
Conclusion
EMF radiation is a great threat to many individuals today, especially those who are sensitive to electromagnetic fields. Thus, installing EMF-shielding paint will help reduce the risk of exposure. EMF paint shields you against low-frequency electric fields, high-frequency radio waves, EMFs, EMR, microwaves, and Wi-Fi radiation from external sources.
These paints block signals from penetrating through the walls, ceilings, any other surfaces, thus helping you protect yourself and your family.
Most of the EMF-shielding paints listed above have a shielding effectiveness of 99.98%, making them quite suitable for blocking a majority of radiation signals in your home. 
My favorite shielding paint is from YShield. YShield provides superior blocking results and lowers your overall exposure to electromagnetic radiation. Just like YShield EMF paint, WOREMOR RF-IE50 EMR & RF Shielding Paint is another EMF paint with an attenuation of between 37dB and 44dB. It will shield you from high-frequency radio waves and RFID.
Although most of these EMF paints require a huge investment, you will have peace of mind, and the benefits are worth the price. Do your own research on each of the listed products and choose the best EMF-shielding paint for your home.