Everywhere you go you will be surrounded by electromagnetic radiation. It comes from your car, office equipment, laptops, cell phones, cell towers, or other home appliances. Thus, you need to have a highly sensitive EMF meter to determine the type and levels of your exposure. 
Depending on the type of radiation you want to measure, there are different handheld EMF meters you can use to know your radiation exposure from a variety of devices.
Picking the right meter is very essential and that's why we are going to discuss some of the best handheld EMF meters you can buy today.
How to Choose the Right EMF Meters
The nature of EMF exposure can be very tricky making it impossible to stay away from radiation. Therefore, before choosing any EMF meter you need first to know what you want to measure. Because there is no solid EMF meter that can measure all types of radiation. So to pick the right EMF meter the first question you need to ask is: What do you wish to measure?
Do you want to measure magnetic fields? For example, magnetic fields emitted by your car, powerlines, and from home appliances? Do you want to measure electric fields from monitors and extension cords? Do you want to measure radio waves emitted by wireless devices such as cell towers, Wi-Fi routers, and microwaves? Or do you want to know how much dirty electricity you're exposed to in your home?
Different EMF meters are designed to measure different types of radiation. There is no one meter that fits all!
There are different types of electromagnetic fields around us. Electric and magnetic fields can be either static or dynamic just like radiation from alternating current from power lines.
Important Factors to Consider
Before buying any EMF meter, there are a number of considerations. These factors will guide you in making the right decision.
1. Sensor accuracy and sensitivity
How accurate and sensitive do you need the meter to be? Do you want to pick faint signals with the meter? Do you want to detect only the strong signals?
Based on what you're looking for and what you want to do, there are different types of meters. Going for a more accurate and sensitive meter requires you to dig deep into your pockets.
Alternatively, you can choose a budget-friendly meter that performs the purpose it is intended for but with lower accuracy and sensitivity.
2. User interface
You also need to consider how easy it is to use the meter. Getting a meter that is difficult to take the readings with is something you don't want to have.
Does the meter use an analog or digital display to read out the results? Can you see the displayed measures from some distance or is the display very small? This kind of information is essential when choosing your EMF meter. A good EMF meter should be simple and easy to use.
3. Portability issues
The portability of your EMF meter or detector contributes to your selection. Apart from the actual features of the meter, you should know its sturdiness. A good handheld EMF meter should be able to survive when dropped accidentally. If it can't withstand a fall, then it is not worth buying.
Best Handheld EMF Meters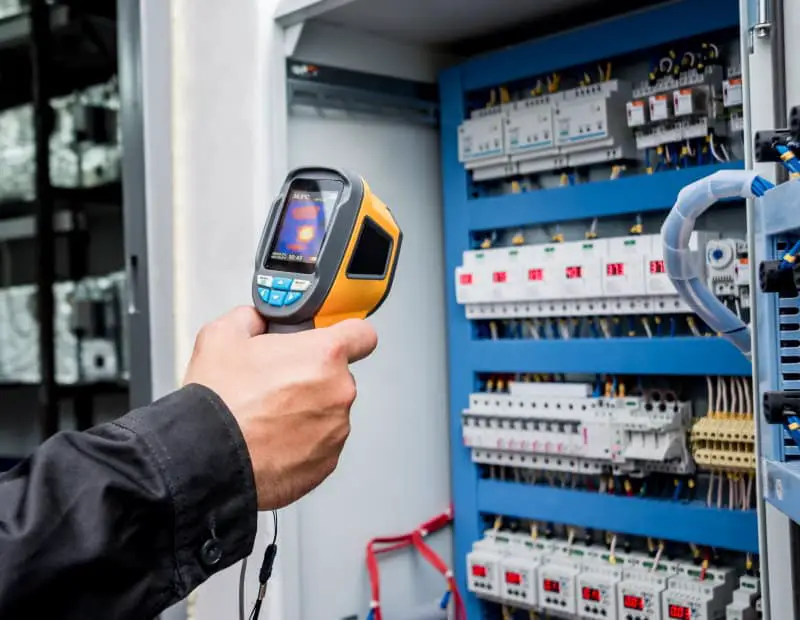 The list below has some of the best EMF meters you should consider when buying your EMF detector. Depending on your needs and budget, you can choose the one that is most suitable for you.
The TriField TF2 model is one of the best and most popular EMF meters in the market. It is used to measure three types of electromagnetic field radiation:
Radio frequency/microwave radiation

AC electric field radiation

AC magnetic field radiation
This model operates within a range of 40 Hz and 100 kHz and has the capability to capture the fastest EMF signals. The minimum sensitivity of the TriField TF2 is 0.1 milligauss or 1V/m making the meter ideal for general use.
It is highly portable and weighs around 13 ounces. You can adjust the backlight to make the display light easy for the eyes. You can easily read the measurements on all existing 5G networks. The meter has a fast indicator bar that quickly identifies strong radiation hotspots.
The large black dial at the base of the meter allows you to adjust the meter up to six settings with the leftmost dial set to off. When you turn the dial to the right, you can take the RF readings. Its large LCD display provides crystal clear readings and accuracy.
Three-color coding on the dial makes it easy to use this EMF meter. TF2 also features a 9V alkaline battery that lasts up to 20 hours when you turn off the backlight. When the backlight is on, the lifespan of the battery falls up to 12 hours. 
Pros
Easy to use
General purpose use
1-year warranty
Unique features
Cons
Unattractive chassis
Expensive
GQ EMF 390 Multi-field meter is a multi-function meter that measures EMF signals and ELF (extremely low-frequency), and RF radiation. It is one of the classic meters in the market and you can use it for general-purpose testing, and scientific testing.
It gives you accurate results on the levels of electromagnetic fields within your surroundings.  The meter is designed with multiple sensitivity sensors that easily detect radiation from 5G cell towers, Wi-Fi signals, microwaves, smart meters, and RF radiation of up to 10 GHz.
In addition, the browser has a built-in GQ RF Browser and RF Spectrum Analyzer to monitor RF signal strength in real-time. It also has a built-in flash memory that saves and logs data in real-time whenever you connect the device to your PC. You can download compatible software from the manufacturer.
It uses open communication protocol to establish a connection with other integrated systems. The meter can send commands to the systems to get all the integrated data.
You can utilize the USB port available to allow communication between the devices.
The small display of the meter looks like a graphing calculator and can affect the readability of the device especially if you're a few meters away.
Pros
Accurate results
Built-in flash memory
Ultra-fast RF detector
Multiple sensors
Cons
Slightly expensive
Small display
This is another handheld user-friendly EMF meter you can consider. It gives you accurate measurements for the RF radiation from your cell phone, Wi-Fi routers, TV, power stations, etc.
It is extra sensitive allowing you to measure radiation within a frequency of between 200 MHz and 8 GHz of Wi-Fi and WiMax frequencies. It also measures digital readouts that have a sensitivity of between 0.01 to 6.0 V/m.
This meter produces LED light while the LCD displays average levels, peak, and peak hold levels of RF electromagnetic fields. The LED lights make it easy to identify radiation hotspots within your surrounding area. The LCD display gives you accurate results and it has a low update speed. The meter uses AA batteries that are inserted at the back.
Acoustimeter is designed such that you can easily make informed decisions based on the levels of RF or nature of microwave signals you experience within your home or office. It gives you accurate results on radiation frequencies from modern communication equipment.   
The speakers provide an audio output socket to use with the headphones or use with an audio recorder. This makes it easy for you to identify levels of radiation from multiple electrical devices within the environment and make audio notes as you go along.
It comes with a soft carrying case, an instruction manual on how to operate the tester, a battery, and a 2-year warranty.
Pros
Easy to use
Accurate results
2-year warranty
Cons
Expensive
Looks like an old calculator
Large speaker
This is a digital LCD EMF meter that is great for testing electromagnetic exposure in your home, office, and outdoor environments. It is one of the budget-friendly EMF detectors that measure both electric and magnetic field radiation.
If you walk into an area where the radiation exceeds the safe value, this EMF detector automatically sounds an alarm to alert you. It is very easy to use and keeps you away from areas with high sources of electromagnetic radiation.
You can use this handheld tester to measure radiation emitted by your TV, refrigerator, computer, and other high voltage electrical devices in your home and office.
The built-in electromagnetic sensor holds radiation data on the clear LCD digital display. The micro-chip processes the recorded data and alerts you if the radiation is beyond the safe values.
Its excellent performance makes this EMF meter an Amazon choice and once you buy it, you have a 90 days money-back guarantee and a warranty of 1 year.
Pros
Excellent performance
Budget-friendly
Easy to use
90-day money-back guarantee
1-year warranty
Cons
Not suitable for measuring RF waves
This electromagnetic field radiation detector from Tacklife is another budget-friendly EMF meter that measures electrical fields, magnetic fields, and temperatures. Compared to other EMF meters in the market, this model measures electric fields using v/m units and ambient temperatures using 2 units 0C/0F. While magnetic fields are measured using optional mg/µt units.
You can turn the LCD display on and off when not needed. The device also has a flashlight and a universal threaded hole to allow you to connect a tripod at the back of the tester.
It supports a high-frequency range of between 5 Hz and 3500 MHz to provide you with accurate results for home appliances such as cell phones, laptops, computers, TV, induction cooker, refrigerators, electrical wires, etc.
It comes with a sound-light indicator that alerts you when the radiation value around you increases. The light turns from green to red while the sound frequency of the alarm is very strong when the measured results exceed the safe value.
Tacklife EMF meter comes with an instruction manual and a battery. If you're not satisfied with the product, you can contact customer care and get a full refund on the device.
Care should be taken when storing this type of meter because it is damaged by high temperatures and high humidity.
Pros
Gives you accurate results
Sound-light alarm
Measure large frequency radiation ranges
Large LCD display
Cons
No RF detector
Damaged by high temperatures
Conclusion
There are different EMF meters in the market that measure different types of electromagnetic pollution. Before buying any EMF meter, make sure you know the type of radiation exposure you want to measure and go for an EMF meter that measures that type of radiation.
You also need to consider your budget. There are EMF detectors that give you accurate results and are pocket-friendly. Further, each detector has its own unique features and most of them are easy to use. Compare the different EMF meters listed above and choose the one that is the most suitable for your needs.
I personally love the TriField TF2 EMF meter because it allows you to measure RF signals, magnetic fields, and electric fields. It is also easy to use and more effective.