If you have been growing out your hair, at one point you have used a hair dryer to dry your hair. It is a convenient and commonly used beauty tool.
Though they are a great asset to have in your home, they generate a lot of heat, which is associated with EMF radiation. If you've been reading my articles, you know how dangerous EMF radiation can be to your health.
However, you don't have to ditch your hairdryer to avoid radiation exposure. You can go for the low EMF hair dryers in the market.  
Hair Dryers and EMF Emissions
Hair dryers emit high amounts of radiation from their electric motors. Since the dryer is held close to your head, it will expose you to EMF radiation. If you use them more frequently, you should keep this in mind. Even a short time of exposure can contribute to your radiation dose.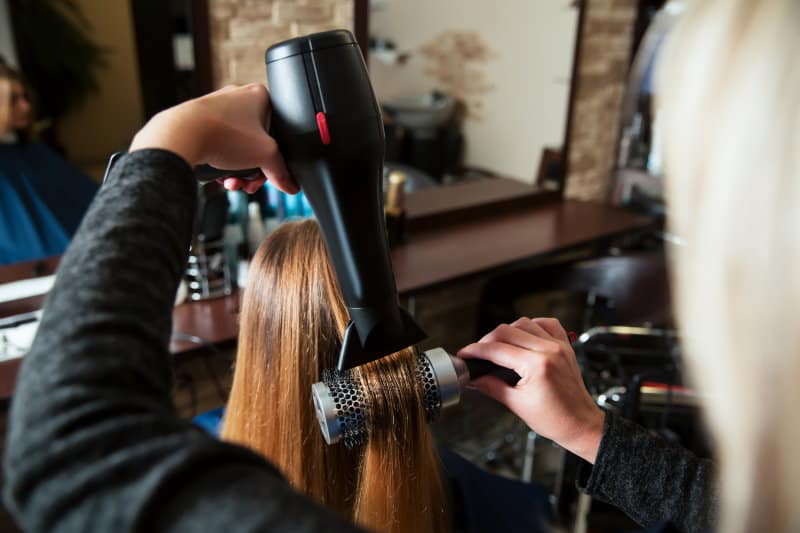 Just like other electronic devices, hair dryers emit low levels of electric and high-levels of magnetic fields. However, the amount and type of radiation emitted depends on built-in features.  
Regular blow dryers emit high amounts of magnetic fields. These high levels of EMF radiation can have an effect on your immune system. Emissions from these devices and other electronic devices are linked to an increased risk of cancer, damage of DNA cells, and brain tumors among other health issues. 
Watch this video to see how a standard hair dryer emits large amounts of electromagnetic radiation:
If you have electromagnetic hypersensitivity (EHS), you are more likely to experience more EMF symptoms anytime you use the blow dryer. 
To reduce your exposure to the magnetic fields, you can invest in a low EMF hair dryer. Low EMF blow dryers have a motor that uses new built-in technology to emit only low amounts of electromagnetic fields. The amount of radiation emitted by these dryers is harmless. 
In addition, the low EMF dryers reduce hair loss and damage by the high heating element from regular blow dryers. 
There are different low EMF hair dryers in the market that can deliver excellent results. Your decision to buy them should not only rely on radiation emission level but also on the ease of use, quality, temperature settings, and air pressure.
What to Look for When Buying a Hair Dryer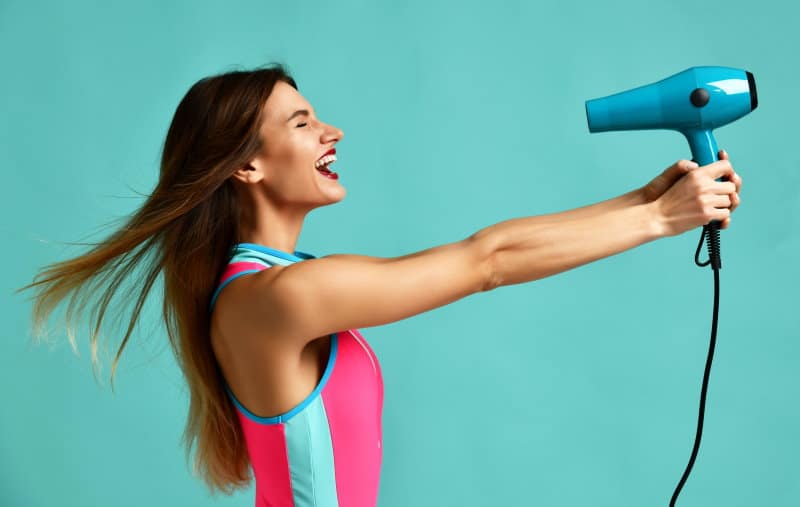 When looking for a low EMF dryer you should consider the following factors:
1. Ionic technology
Ionic technology relies on the negative ions to break the water molecules on your hair surface. Your hair can easily absorb the smaller molecules of water so as to stay hydrated. 
2. Diffuser
Hair dryer models that come with a diffuser will enable the heat to spread evenly in your hair and makes it easy to form curls. 
3. Tourmaline ceramic technology
Hairdryers coated with a ceramic grill generate infrared heat that dries your hair without any damage. At the same time, the tourmaline technology ensures there is no static electricity generated when blowing your hair and this reduces frizz. 
4. Heat settings
Heat settings allow you to adjust the amount of heat your dryer emits. Modern hair dryers have 2 – 3 heat settings to allow you to choose the level of heat emitted by the dryer. 
5. Speed settings
Setting the speed of your hair dryer enables you to control the amount of airflow. 
6. Wattage
Before buying your hair dryer, confirm its overall wattage and that at the plug point. If the dryer has a high wattage, it may result in short-circuiting and overheating.
7. Material
The material used in making the hair dryer is also very important. A good hair dryer should be made from a durable material. It should also have a ceramic coating to prevent it from breaking. 
8. Cool shot button
A dryer with a cool shot button allows you to lock your hairstyle once you style it. So if you're looking forward to styling your hair then you should look for a blow dryer with a cool shot button.
Best Low EMF Hair Dryers
If you use hair dryers more often, you don't have to worry about electromagnetic radiation. There are low EMF hair dryers you can buy and reduce your exposure to radiation. Some of these hair dryers are radiation-free, affordable, and long-lasting. 
In this article, I have highlighted some of the best low EMF hair dryers in the market. I will now make it easier for you to compare different brands and choose the best low EMF hair dryer for your hair.
This is a high-performance hair dryer that uses an AC motor of high velocity. The dryer uses its power and endurance evenly to dry your hair as well as reduce the drying time by half.
You can use the upper switch on the dryer to control the heat while the lower switch allows you to adjust the speed. This Nano Salon Pro-2000 uses tourmaline ceramic to dry your hair evenly and it is more efficient.
With the 12-foot cord, you can move around while drying your hair. You can also use the available 3 heat settings to control how much heat is produced.
In addition, Nano Salon Pro-2000 uses negative ion technology that enables the dryer to seal moisture, eliminate static electricity, reduce humidity, and tame frizzy hair.
The dryer allows you to style your hair in different ways. Once you've dried your hair, you can keep the dryer in its protective bag for safekeeping.
A combination of far-infrared heat, low EMF radiation, and the stylus thermal hair care line prevent hair damage as well as ensure you have smooth and shinier hair.
You can easily clean the dryer by removing the air filter and cleaning all dirt from the dryer. 
Pros
Lightweight
Softens your hair
Dries the hair fast
Prevents hair damage
Cons
Short lifespan
Short circuit
SuperSolano is another lower EMF Hair dryer that enables you to easily dry and style your hair. This Italian made hair dryer features lightweight DC motors that allow you to blow dry your hair without getting tired.
I love this blow dryer because I can easily adjust the temperatures and speed to professionally dry and style my hair. It is more efficient and gets the job done quickly leaving me with soft and smooth hair. It uses infrared features to reduce your drying time.
It gives your hair a sheen look similar to that done via a professional blow-out. It uses a tourmaline ceramic that reduces the flyaway nature of your hair and doesn't dry it out or create a frizzy look.
A ceramic thermal grill ensures heat is distributed evenly to dry your hair faster. This type of dryer emits low amounts of EMF radiation.
It doesn't produce any noise when operating and it is comfortable on your hands. As a result, you can use it for prolonged periods of time before getting tired.
You don't have to worry about losing your hair or any damage because the dryer doesn't weaken or burn the ends of your hair to a crisp. 
Pros
Lightweight dryer
Even distribution of heat
High-performance motor
Relatively quiet
Long cord
Cons
Can burn out after a while
Slightly expensive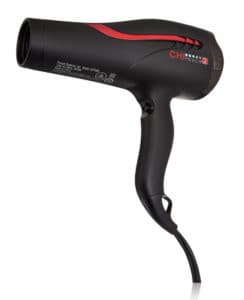 CHI Touch professional hair dryer is one of the popular hair dryers with 1875 watts of drying power. It can dry your hair 50% faster than your regular dryer.
It is a high-quality blow dryer that emits negative ions that promote healthy air and hair. The ceramic coating ensures you have shiny and frizz-free hair.
It uses a touch screen control system to adjust the speed, temperature, and ion emissions. In addition, you can adjust the LED heat settings based on your hair type.
The infrared technology boosts the dying time as well as lowers the amount of EMF radiation emitted by the device. Although it does not have the lowest EMF emissions, it reduces the time you spend drying your hair, thus reducing the time you're exposed to EMF.
It has a concave handle that makes you comfortable when using it. Its lighter and compact design doesn't tire your arms as you use it.
This blow dryer has a soft touch rubber finish to give you a non-slip grip and allow you to easily style your hair. You can even place the back of the dryer on a flat surface to have hands free drying.
Pros
Lightweight
Compact 2.4-inch touch screen control
Generate negative ions
Frizz-free hair
Comfortable grip
Cons
Not long-lasting
Not ideal for styling your hair
Slightly expensive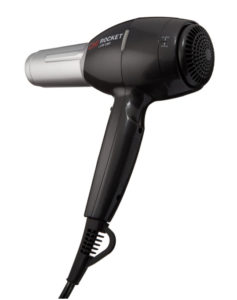 Chi Rocket is another low EMF hair dryer in the market. It is lightweight, quiet, and durable.
It comes with a concentrator nozzle and a removable filter. You can use the attachable comb to improve the distribution of air.
It uses powerful infrared technology that ensures your hair doesn't get too hot thus preventing any damage and ensuring your hair is frizz-free. The infrared light indicator shows you when the dryer is emitting infrared and ionic heat.
It can dry your hair 40% faster than when using other regular dryers. It emits the lowest electromagnetic radiation.
The 1800 watt AC motor is more efficient and delivers a powerful steady stream of heat capable of removing moisture.
This type of dryer features negative ion technology that eliminates static electricity and ensures your hair remains shiny and healthy.
Compared to other quality low-EMF hair dryers, Chi Rocket is budget-friendly and gives you value for your money.
Pros
Quiet hair dryer
Lightweight
Far infrared technology
Shinier hair
Budget-friendly
Cons
Elchim 3900 is another powerful and more effective hair dryer that reduces your drying time by more than 30%. If you have thick hair, this blow drier is for you because it is capable of drying your thickest hair while closing the hair cuticles.
It is quiet and it emits low levels of EMF radiation compared to the other hair dryer brands. The high-quality dryer ensures your hair remains healthy and perfectly groomed.
Ionic and ceramic systems help you preserve the integrity of your hair. Thanks to the airflow that hydrates and makes your hair glossy, it is suitable for all hair types, even thin hair.
It uses far infrared technology to prevent your hair from getting too hot or damaged.
It is made from a premium quality 2400 watt AC motor that ensures it lasts and it has a smooth salon quality. It is designed to eliminate static when using the dryer leaving you with a smooth finish.
This blow dryer has two features for brushing and styling your hair. Elchim 3900 is ergonomic and lightweight, it doesn't weigh you down or even hurt your wrist while styling your hair.
Pros
Long-lasting
Lightweight
Flawless results
High-performance motor
Operates quietly
Cons
Might short circuit
Not as fast drying as others
Conclusion
Hair dryers can emit high amounts of electromagnetic radiation during the very short time period you're using them. Therefore, it is important to invest in a low EMF hair dryer to reduce your exposure. Personally, I love Solano SuperSolano 3500 Lite Professional because of its lightweight and durable nature. It also gives you good value for your money.
Beauty professionals should also go for low EMF hair dryers such as Elchim 3900 Healthy Ionic Ceramic Hair Dryer to reduce cumulative exposure. Since they're likely to use the blow dryer a lot throughout the day, their exposure is greater and they should find ways to reduce their radiation exposure. 
Based on your needs and budget, you can really choose any of the low EMF hair dryers I've discussed to limit your exposure.