Almost every home has a doorbell. Doorbells are for a visitor to use to notify the home occupant when they have arrived at the front door. There are different types of doorbells on the market and you probably wonder whether to buy a wired vs a wireless doorbell?  
A wired doorbell uses wires connected to an electrical outlet in order to function, while wireless doorbells do not need a connection to wires or cables for them to work. It can be a bit tricky to choose just the right doorbell, but in this article, we will discuss wired and wireless doorbells in order to help you make your decision.
Let's have a look at both wired and wireless doorbells so that you can decide which is best for you.
Wired Doorbells
Wired doorbells are very cheap compared to their wireless counterparts; however, the relatively low cost of purchase is offset by the cost of labor to install it. Wired doorbells require a professional to properly install the doorbell in the walls. The wiring process involves a lot of work and it can also require a lot of maintenance.
Here are some of the features you should consider when buying a wired doorbell:
Installation and Maintenance
The electrical wiring for a wired doorbell must run through the walls. The speaker's wires should run between the outdoor button and the indoor button/bell system. The wires run into the transformer installed next to the circuit breaker box so that the right voltage flows through the doorbell. The installation process requires you to hire a professional to properly install the doorbell.
Sometimes the wires get damaged prompting you to replace them. Replacing a doorbell and/or its maintenance or repair may turn out to be expensive. This is mostly because you have to hire a professional to install, maintain, and sometimes even replace the doorbell.
Accommodates A Lighted Button
Hardwired doorbells (doorbells that don't use batteries) can have a lighted button fixed on them. Putting a lighted push-button on any battery-powered doorbell will result in a shorter battery life than one that has no light.
In wired doorbells, there is no interference with the signal range like with wireless doorbells. This is because there are no radio frequency (RF) signals transmitted through the air. The signals in a wired doorbell flow through the wires/cables.
Hard-wired doorbells come in many different styles, which allows you to choose among several designs in order to match your house décor. The designs can range from sleek wood and ornate designs to antique metallic scroll styles, and more.
If you love traditional chime tones with a symphonic rich sound then you can go for classic doorbells. A wired doorbell allows you to get a unique chime sound for your outdoor and indoor doorbell. Once you select your unique sound, you can't change it.
How A Wired Doorbell Works
In a wired doorbell, the wires run directly into the transformer. If you have a battery-powered wired doorbell, the wires run directly to the doorbell. Therefore, when a visitor pushes the outdoor button, an electrical signal is generated and the connected speakers inside the house generate a chime sound.
If you want to learn how to connect your doorbell, watch this YouTube video: 
Wireless Doorbells
Wireless doorbells are often more stylish, classy, and inexpensive. The doorbells are either battery-operated or electric-powered. If you have a battery-powered doorbell, you can put it anywhere, and it is easy to install. The bell communicates through the use of radio signals. The transmitter that connects to the outdoor button sends radio waves to the receiver bell or speaker that is installed inside the house.
Here are some of the most important things you should consider when buying a wireless doorbell:
The versatile nature of the wireless doorbell makes it easy to move the doorbell to a nice location that suits your house layout. You don't need any wires to connect the doorbells. Therefore, you don't need to make any changes to your house because the transmitter can be easily mounted on the wall using screws or other simple fastening devices.
You can use an adhesive strip on the back of the transmitter button to attach it to the wall. The indoor receiver can be plugged to a wall or you can use a battery-powered receiver placed anywhere in the house that you can hear it.
With wireless doorbells, you don't have to worry about maintenance related to malfunctions like you do with wired doorbells. Wireless doorbells are more durable and don't require a lot of maintenance. 
Multiple Frequency Channels
The transmitter and receiver should be within a signal range of 150 to 1,000 feet. This ensures radio signals transmitted by the outdoor transmitter button on the front porch are heard in the entire house.
The wireless doorbell also has a multiple channel operation feature. This allows you to set the frequency channel such that it doesn't interfere with your neighbor's doorbell.
Supports Several Receivers
If you have a bigger house, you need more receivers to transmit the signals throughout the whole house. You can also have portable receivers that you can bring with you in your backyard or even garage.
Wireless doorbells allow you to expand your system by adding more transmitters (push buttons) and receivers to your system. All connected wireless buttons should be compatible with each other and mostly from the same manufacturer.
Many wireless doorbells have enhanced security features such as a video camera to capture your visitors, night vision, and Wi-Fi. With Wi-Fi, you can see, talk, and record your visitors before opening the door for them.
Note: Wireless doorbells can interfere with Wi-Fi signals and RF waves emitted by other devices in your home. You can read more information about wireless doorbells and Wi-Fi interference from my detailed article here.
The doorbell can flash LED lights which is another key feature that is especially useful for those with hearing problems or in homes where the ambient noise level is high.
Wireless doorbells can also detect motion or sound at/on your front door. This can alert you of any burglary attempt at your home.
The integration of your wireless doorbell with mobile apps has become very popular recently. Mobile integration will be a large benefit since you can bring your mobile phone with you. This will enable you to see who is at your door from anywhere you take your phone. You can also communicate with the individual at your door through the doorbell.
Other integration forms you can use include Google Home and Alexa integration. 
Which Is Better For You?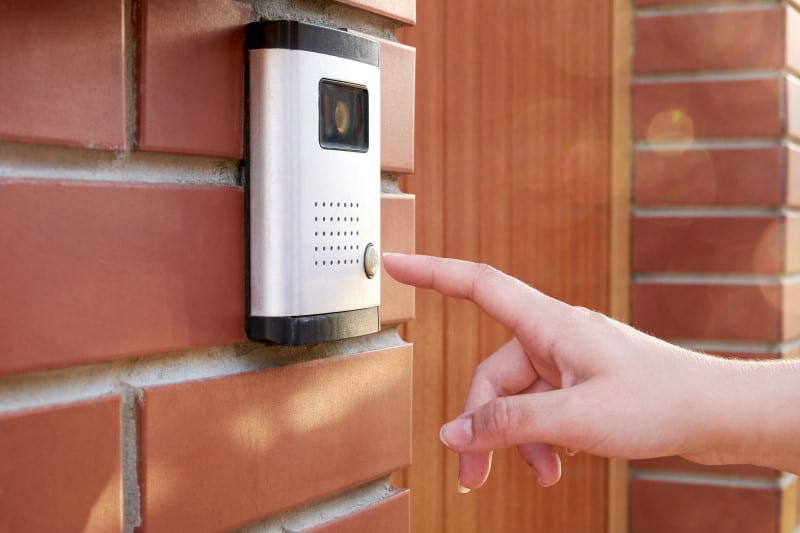 Making your decision about whether to have a wireless or wired doorbell depends on the key features you need for your specific use. You should also consider whether you may need to expand your system later. With an understanding of the features described so far and discussed further below, you can more effectively decide about which is the best for your home.
Many homeowners prefer wireless doorbells because of their features. Security, convenience, and safety are some of the key reasons why many people prefer to use wireless doorbells. A wireless doorbell can allow you to have a different sound for each door as well as enable you to change the doorbell chime/bell tones more often.  
Wireless doorbells have an extensive range that allows you to connect the receiver in your home garden or backyard. Some of them have video integration that allows you to see who is at your door and decide whether to go and open up for them or not. A wired doorbell needs to be mounted somewhere close to the door. It doesn't give you many options.
Wireless doorbells are easy to install and wireless doorbells give you more installation options compared to wired doorbells. You can easily decide where to plug the receiver or the chime and then do that yourself. It's so easy, you can quickly get back to your other duties after installing it.
They also leave your house looking tidy since no cables are used in the installation. It is very hard to hide the cables running up to where the wired doorbell chime is located. Wired doorbells require you to drill holes where the cable passes. So why go through that when you can easily go for a wireless doorbell!
Though the wireless doorbells have multiple features, they have fewer design options than a wired version. Most of the components are either in plain white or beige and feature few design styles. 
Alternatively, a wired doorbell has multiple design options you can choose from. If you love a doorbell with decorative styles that suit your home then you can buy a wired doorbell. If you worry about hackers breaking into your house through the Wi-Fi, then you should also consider a wired doorbell.
Although each type of doorbell has its specific pros and cons, you should choose the one that meets your needs. Once you choose the option to go for, you can select the design suitable for your home and go ahead with the installation.
Can You Hardwire A Wireless Doorbell?
Wireless doorbell buttons send radio wave signals to the receiver while the wired doorbell closes an electrical loop that triggers the chime to ring when a visitor presses the outdoor button. This makes it difficult to mix wired and wireless doorbell technology.
Therefore, it is impossible to hardwire a wireless doorbell, but you can extend a wired doorbell's capability using wireless features.
This can be achieved by using a doorbell extender which acts as a small transmitter to connect to the doorbell transformer. Using this method, radio signals are transmitted into a compatible receiver once the outdoor button is pushed.
This allows your wired doorbell system to function well with additional wireless capabilities. 
Best Wireless Doorbells
When buying doorbells, you have to consider the following factors:
 

Receivers:

How many receivers do you need? This is important especially if you have a large house. Most of the doorbell kits come with only one receiver.

Weather-resistant:

Weather resistance is an important factor you have to consider with the doorbell you're purchasing. Ensure you buy a waterproof doorbell. Alternatively, ensure it is protected with either a porch or an overhang so that it's not affected by water.

Range:

The signal range is also very important especially if you have a large house. Therefore, when shopping for the doorbell, you should know where you want to mount the receiver in your house and buy the doorbell which can cover that range.

Power source:

If the receiver is mounted far away from the power source, you should consider battery-powered receivers. Otherwise, you can plug it near a power outlet to provide constant power.

Camera:

If you're looking forward to video integration with other devices like Google, Alexa, and other apps then you need a doorbell with a camera.

Aesthetic:

The aesthetic of the bell influences the type of doorbell to choose from. If you want to customize the doorbell with different chimes, then you can go for those that allow you to change the tone. You should also consider the style and design of the doorbell.
Let's have a look at the 4 top wireless doorbells you can buy!
1. Ring Video Doorbell 2 Wireless Battery-Powered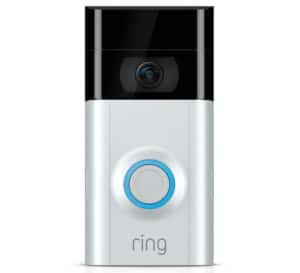 The Ring Video Doorbell 2 supports 1080p HD video that allows you to clearly see your visitors at the door as well as speak with them via your mobile device or tablet.
The doorbell has a motion sensor that alerts you whenever a motion is detected or when someone presses the front door doorbell button. You can use the ring app installed in your mobile device to monitor your home at any time and from anywhere.  
You can easily mount this doorbell at the location of your choice and connect the device to your Wi-Fi network using the Ring app.
The device comes with a rechargeable battery to power-on the transmitter. Alternatively, you can plug it into existing wiring. You can take out the battery and charge it outside the doorbell.
It also works well with Alexa at the front door. Integrate the doorbell with Alexa and you will be able to get live feeds on what is happening at your front door. If your Echo device has a screen, it allows you to have a two-way talk with your visitor. The Alexa device is able to capture the sound of your voice as an enhanced security feature.
2. SadoTech Wireless Doorbell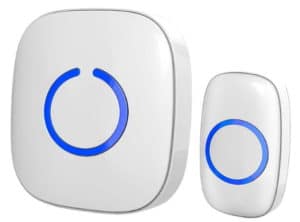 The SadoTech Wireless Doorbell has  52 chime/tones to choose from, and it has 4 volume settings (up to 15 dB) and a LED flashlight to illuminate both the transmitter and the receiver buttons. You don't have to have boring ringtones. You can change the settings as often as you want.
The doorbell features a well-built design with high-quality microchips and electronics that make the doorbell more durable compared to other types. The battery is long lasting so you don't have to worry about replacing it very often as with other doorbells.
You can easily mount the doorbell in your home, and once the transmitter button is pressed, it can transmit signals to a long wireless range of 1,000 ft. Therefore, if you have a large house, or have a backyard or a shed, you can use this type of doorbell to transmit signals throughout the entire house.  
This doorbell allows you to set different chimes or tones for each door. This makes it easy to know which door the visitor is calling from. This feature works well in homes or offices that have several entry points.
The wireless doorbell is waterproof as well as weatherproof in temperatures ranging from -40 F to 1400 F.
This doorbell comes with an extra battery-powered receiver that you can bring with you to your shed or backyard. It has an extra waterproof remote transmitter button and an extra motion sensor.
3. Ring Video Doorbell Elite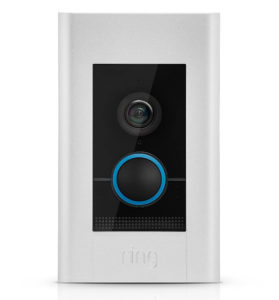 Ring Video Doorbell supports Alexa, a voice control and a combined screen. The Alexa device integrates with your mobile phone or tablet to allow you to see and talk to your visitors through the unit.
The 1080p HD video integration lets you see who is at your front door. It also has infrared night vision to allow you to monitor your home at any time and from anywhere. The on-demand video provides you with a live view of what is happening in your home.
The doorbell has a motion detection feature and sends alerts to you once the front doorbell is pressed or when a motion is detected. You can customize the advanced motion feature to focus on major areas of your yard.   
Another outstanding feature of this type of doorbell is the use of Wi-Fi and PoE (Power over Ethernet) connection. This allows you to stay online and you don't have to worry about charging the battery with PoE.
If you don't have a PoE port in your router, you can configure the Elite doorbell to connect to Wi-Fi. All you need is to plug it to the power source and configure it to use Wi-Fi.
4. August Home AUG-AB02-M02-G02 Wired Doorbell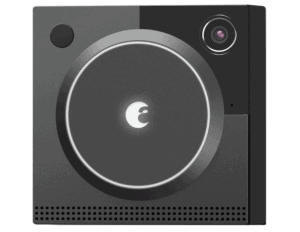 The August Home Wired Doorbell supports the use of Alexa as a voice control measure. You will be able to obtain real-time alerts when someone is approaching your front door. The use of two-way audio allows you to talk to the visitors at your front door. The video integration allows you to see who is at your door from anywhere by using your phone interface.
An August doorbell uses Cam Pro to capture videos and record everything happening at your door. You can replay the stored video for the last 24 hours when subscribed to the free basic video recording option. To get 30 days of recorded videos, you have to upgrade to a premium video recording option.
The doorbell provides you with a full color HD view at night. You no longer have to rely on unclear infrared videos captured at night. This type of doorbell requires integration with iOS devices of 9.0 or higher or a device using Android OS of 5.0 and above.
This doorbell is easy to install and can easily function using the existing wiring system. You can easily replace your current doorbell with this upgraded type of doorbell.
Summary
Doorbells are very essential for every home and office. Whether to use wired or wireless doorbells depend on your needs and the specific features you're looking for. Doorbells increase convenience at your home or office by letting you know someone has arrived.
Wired doorbells require a professional to install the wiring system in your house while wireless doorbells are very easy to mount. You can plug the receiver in at any place of your choice as long as it is within the range required for operation.
Wireless doorbells have more features than wired doorbells. They also allow integration with other apps like Google Home, Alexa, and integration with your mobile phone or tablet. This makes it easy to implement two-way audio to talk to your visitors at the front door.
Those with cameras provide you with video integration features, so that you are able to see who is at your door. Doorbells with motion sensors can detect when someone is approaching your door or alert you when someone presses the bell button.
Therefore, you can choose any type of doorbell that suits your needs. Whether you like wired or wireless doorbells, the decision is yours. There are also many different wireless and wired doorbells on the market. You can evaluate the features of each doorbell, compare the prices with your budget and choose the one that suits your needs.