Much has been said about electromagnetic radiation and its effects on our health. There is a lot of awareness of EMF-shielding solutions to protect you against these harmful radiation effects.
EMF-shielding fabrics are ideal for making these shielding solutions. A piece of shielding fabric can be used to block radiation from external sources entering your home through the windows or via the walls.
There are various options for you to choose from, but the best EMF-shielding fabrics have a highly conductive material to give you excellent protection.
Read my best EMF-shielding fabrics review to find out.
Product
Details
1. Mission Darkness TitanRF Faraday Fabric
 

Tested and certified by MIL-STD.

Trusted performance.

Protection against RF, RFID, EMI, and EMF.

2. Alfredx EMF Protection Fabric
 

Military-grade shielding.

RFID protection.

EMF protection.

Conductive fabric.

3. PROFESSIONAL TEXTILES FACTORY Faraday RFID Shielding Fabric-Block
 

Anti-radiation conductive magnet.

RFID-blocking.

Blocks RF, EMI, EMF, and LF.

4. NEWBEAU EMF-Shielding Fabric
 

Copper and nickel conductive material.

Multi-use product.

High-quality protection.

5. Amradield Electromagnetic Shielding Window Fabric
 

Highly conductive material.

Blend of copper, polyester, and nickel.

Blocks RF, EMI, EMFs, LF.

6. Blocsilver EMF-Shielding Fabric
 

Increased silver content.

Multi-use fabric.

Blocks RF radiation.

Breathable fabric.

7. EMR Shielding Solutions FL90 EMF-Shielding Sheet
 

HF and RF shielding.

Quality grade material.

Grounded.

8. TitanRF Faraday Tape
 

EMI/RF shielding
Lab tested & Certified
Flexible and durable
What is EMF-Shielding Fabric?
EMF-shielding fabric is a conductive fabric that absorbs electromagnetic field radiation. These conductive fabrics block radiation from Wi-Fi routers, cell phone devices, smart meters, laptops, and other radiation from home appliances.
There are different levels of EMFs, and each of these fields emit a specific amount of radiation. Some radiation-emitting devices emit more radiation than others. For example, the implementation of a 5G network has resulted in the emission of high levels of radiation compared to 4G networks.
You can read my detailed article on 5G networks and how to shield yourself from them.
The number of electronic devices in your home also determines your exposure levels. If you have a smart home, the rate of exposure to RF is very high from the various wireless technologies surrounding you. Thus, investing in some EMF-shielding fabric will help you reduce your exposure to this radiation.
EMF-shielding fabrics are versatile and can be used for different applications and uses. For example, shielding fabrics can be used to make curtains, clothes, hats, pouches, phone cases, blankets, grounding, tents, etc.
Types of EMF-Shielding Fabrics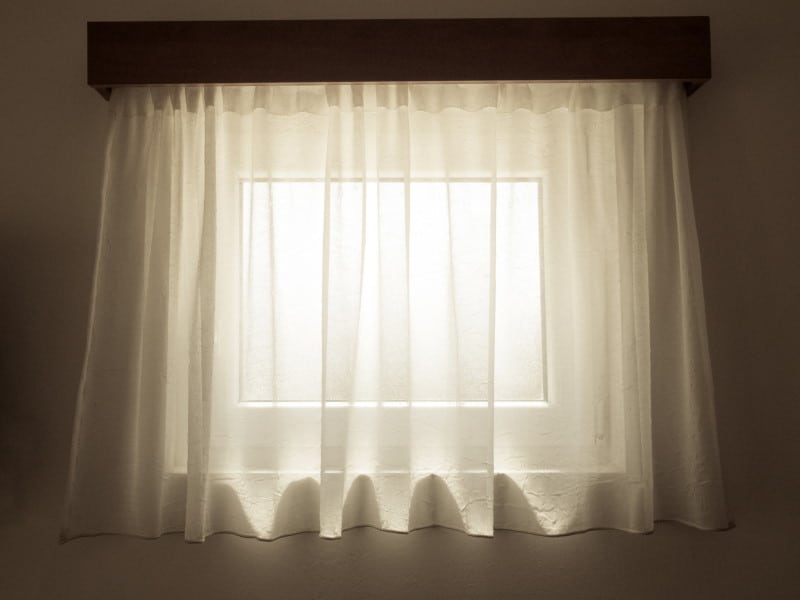 Different manufacturers have come up with different EMF-shielding fabrics made from various kinds of materials.
You can buy an EMF-shielding fabric in the form of a bolt. A plain material in a roll can be used for various applications. You can also buy a premade EMF-blocking fabric like the protection blankets, pouches, clothing, etc.
You can choose the best shielding fabric for your window and doors and shield yourself against electromagnetic radiation. Fabric made from 100% cotton or synthetic fabric will provide you exceptional protection with their high-shielding power.
The materials used for making these fabrics include:
1. Cotton-based EMF-shielding fabrics
These come as premade products because it's a little hard to find a plain sheet of cotton material. Cotton-based shielding fabrics are great for making sheets, curtains, grounding, and garments.
Most products made from EMF-shielding cotton are great for indoor use. Other products will also have a mix of cotton and polyester fabric or just pure polyester.
2. Mesh-shielding fabrics
Some EMF-shielding fabrics are available in the form of mesh material, which is usually a roll or bolt of fabric. Mesh-type shielding fabrics are suitable for making enclosure or bed canopies, window coverings, folding screens, and sheer curtains, since it can allow light to pass through its thinner material.
Mesh fabric is the most breathable shielding material on the market. These materials are thick, and it can be challenging to cut the material. However, the thick fabric is also advantageous because the edges are also less likely to fringe.
3. Conductive-shielding fabric
Some fabrics such as copper or nickel-copper are highly conductive. These high-tech and industrial conductive fabrics are suitable for making pouches, liners, grounding, wall coverings, and gaskets.
In addition, you can buy RF-shielding nickel-copper-cobalt tape to use together with this highly conductive fabric.
Conductive EMF-shielding fabric is usually available as a large roll of fabric or pre-cut pieces of different sizes.
Choosing the Best EMF-Shielding Fabric
You may find it a bit overwhelming to choose the best EMF-shielding fabric for your home and office. In this guide, I will help you understand the key factors to look at and how you can rely on these factors to choose the best shielding fabric for you.
These factors include:
Thickness

Conductivity

Effectiveness (1GHz to 10GHz)

Type of metal

Type of material

Dimension (in a roll or bolt)

If it's a pre-constructed product, how is the electric field shielding incorporated?

Price
Each of these factors will depend on how you intend to use the fabric. Having thicker and more breathable fabric will shield you against non-ionizing radiation from various EMF sources, along with RF radiation from both wireless and wired devices.
However, the effectiveness of the EMF-shielding fabric will depend on how you use it and how it works. Based on the use of the product, sturdy, soft, and comfortable materials are highly recommended.
Price is also a determining factor because the rolls of fabric are hundreds of dollars. However, there are effective shielding fabrics that are budget-friendly.
Best EMF-Shielding Fabrics
If you're sensitive to electromagnetic radiation or want to protect yourself from the dangers of EMF, invest in one of these EMF-shielding products to protect yourself. I have listed some of the best shielding fabrics available on the market.
The TitanRF Faraday tape is lab-tested and certified by Keystone Compliance Laboratory to provide top-notch shielding effectiveness.
The tape is highly conductive and durable. It is strong, thus it can hold multiple pieces of EMF-shielding fabrics together. It is not easy to rip the tape or tear it without the use of scissors.
The tape can be used on EMI and RF shielding equipment, cages, and other enclosures. It can also be used to repair punctured Faraday bags or EMF sheets.
You can enhance your digital privacy using this Faraday tape and construct signal-proof rooms.
Install the mission darkness app and test the effectiveness of this Faraday tape with your smartphone. The tape can also block RF signals from your cell phone and other wireless devices.
Pros:
Durable

Easy to use

Multiple uses

Lab-tested
Cons:
7. EMR Shielding Solutions FL90 EMF-Shielding Sheet

FL90 is a high-frequency radio frequency and low-frequency electrical field-shielding fabric. According to IEEE-STD 299-1997, the fabric has shielding attenuation of more than 80dB.
It is made from nylon, copper, and nickel material to provide you with the highest quality protection. You can use it to make protective blankets and other protection products.
To get even better results, you can ground the fabric to block radiation from low-frequency electrical fields.
Pros:
Shields against HF RF and LF electrical fields

High-quality fabric
Cons:
6. Blocsilver EMF Protection Fabric
Blocsilver is another great EMF blocker fabric on the market. It has amazing EMF-shielding capabilities compared to other fabrics.
This third generation Blocsilver consists of increased silver content, which helps block against RF radiation, high-frequency 5G networks, radiation from cell towers, and frequencies within 10GHz.  Blocsilver has an average attenuation of 39.7dB effectiveness.
The fabric is very breathable, making it suitable for making EMF canopy beds, curtains, phone cases, and other DIY enclosures.
The Blocsilver EMF protection fabric is machine washable, and you can wash the fabric up to 40 times. You can follow the instruction manual to learn more about how to wash it.
Pros:
Breathable

Washable

Multiple uses

Lightweight and transparent
Cons:
Only shields against RF radiation
5. Amradield Electromagnetic Shielding Window Fabric
This Amradield brand fabric is highly conductive and will shield you against RF, EMF, EMI, and LF radiation. In addition to radiation shielding, this material also has anti-bacterial and anti-electrostatic properties.
It is perfect for making earthing or grounding mats, since it has a surface resistance of below 0.03 ohm and average attenuation of 45dB for all frequencies between 30 MHz and 8GHz.
Amradield is a blend of copper, polyester, and nickel to form its conductive grid. This mesh-type fabric operates on the principle of Faraday cage to shield you against electromagnetic radiations.
The fabric is sold in pieces, but if you need continuous material, you should indicate that to the manufacturers, so they can send material with continuous length.
You can easily cut the material and sew curtains, tents, bags, etc. You can also insert a piece of this material into your wallet or handbag and protect your ID and credit cards from data theft.  
When opening the package, be careful not to cut the inside of the material because it contains nickel, which may cause skin problems if it comes in contact with your skin for a long time.
Pros:
Effective for shielding RF, EMI, EMFs, and LF radiation

Highly conductive metal

Available in rolls
Cons:
Can trigger skin allergies
4. NewBeau EMF Radiation Shielding Fabric
This fabric features an anti-radiation high-conductivity soft material made of 20% copper/nickel and 80% polyester. This EMF-shielding fabric can block radiation from 10MHz to 5GHz.
Due to the large size of this fabric, you can make several protection products from it; however, if you don't have quite enough, you can still buy extra fabric for more DIY products. For example, you can use the fabric to make RFID blocking bags or wallets, radiation phone cases, laptop covers, EMF blankets, etc.
This high-quality protection fabric can shield you from cell phone radiation, Wi-Fi routers, microwave ovens, and other electronic devices.
You should keep the fabric away from water because water will weaken its effectiveness.
Pros:
Soft fabric

High conductivity

Wide range of use

EMF protection
Cons:
3. PROFESSIONAL TEXTILES FACTORY Faraday RFID Shielding Fabric-Block
Faraday fabric from Professional Textiles Factory has high conductivity with super earthing/grounding capabilities. The fabric reduces radio waves and microwave signals within your room.
It is from a blend of copper, nickel, and polyester, creating a conductive grid that acts as a Faraday cage to shield you against RF, EMI, EMF, and LF radiation. It has a surface resistance of below 0.5 ohms and attenuation of between 75dB and 95 dB, with a 10MHz -18 GHz frequency.
It is easy to use, cut, and sew, so it's great for making DIY enclosures like tents, curtains, screenings, etc. The material can block wireless signals coming from your cell phone, Bluetooth devices, cell towers, smart meters, and other electronic devices.
You can also use an insert of this fabric into your wallet or handbag and shield your credit card details and other private data from theft.
You can buy pieces of the fabric and make your shielding material.
Pros:
Highly conductive grid

Multiple uses

Blocks EMFs
Cons:
Can trigger skin allergies
2. Alfredx EMF Protection Fabric
Alfredx shielding fabric is among one of the more budget-friendly fabrics on the market. It is made of conductive material to block radiation from your cell phone, router, Bluetooth devices, 5G networks, and other radiation-emitting devices.
Made from 20% copper and 80% polyester material, this fabric is suitable for absorbing radiation from smart meters, EMI, and EMF. Insert a piece of this fabric into your wallet to prevent information theft and leakage.
You can easily cut and sew EMF-shielding products for your home and reduce your exposure to RF and EMF radiations.
Pros:
Multiple layers for excellent protection
Cons:
Reduces radiation from 5G networks.

Highly conductive RF shielding performance

Lightweight

Flexible
1. Mission Darkness TitanRF Faraday Fabric
The New TitanRF Faraday fabric uses military-grade certified material to shield you against 5G networks, RF, EM, EMFs, and RFID radiations. This lab-tested fabric offers the next generation Faraday cage EMF-shielding against high-altitude electromagnetic pulses (HEMPs) and other electromagnetic radiation.
The fabric is made from a blend of copper and nickel to give you an attenuation of 80 – 120 dB within frequencies of between 10 MHz and 5GHz.  
Lab-tested to confirm its military-standard shielding effectiveness, this material is great at protecting your home and office from exposure to high levels of EMFs. You can also use the material to make RFID wallets, which will shield your personal identification data and credit card from data theft.
The TitanRF Faraday fabric is suitable for making signal-proof rooms and tents. Cut out a piece of this fabric and use it to make enclosures, Faraday bags, and other DIY Faraday cage projects.
If you have a smart meter installed opposite your bedroom wall, you can hang this fabric on that wall to block radiation from the smart meter and your neighbor's Wi-Fi router from penetrating the walls. You can also cover any radiation-emitting device with this fabric to shield you from exposure.
This product with TitanRF Faraday tape, which is a highly conductive adhesive that enables you to attach multiple layers of the TinanFR fabric together.
TitanRF is available in pre-constructed rolls of fabric and standard large sheet pieces, which you can easily cut to make into DIY RF shielding enclosures.
Pros:

Scientifically proven performance.

Military-grade certification.

Can signal-proof rooms and tents.

Highly conductive fabric.

DIY RF enclosures.

Great for DIY earthing bed sheets.
Cons:

Expensive.

Reduces signal reception.
Conclusion
Depending on your needs, you can choose a shielding fabric that will be effective for your protection. Not all EMF-shielding fabrics will protect you against every type of EMF; some protect you against RF, whereas others protect against magnetic fields, EMI, and other forms of radiation.
Therefore, you will need to know the levels of radiation you want to shield yourself from in your home and choose the right protection product.
Mission Darkness TitanRF Faraday Fabric is my favorite shielding fabric because of its trusted performance and make from military-grade protection fabric that shields you from RF signals and other forms of radiation. I also like Alfredx EMF Protection Fabric and PROFESSIONAL TEXTILES FACTORY Faraday RFID Shielding Fabric-Block, since they are also great EMF, RF, EMI, and RFID protection products.
However, based on your needs and budget, you can choose any shielding fabric of your choice from this list to protect yourself and your family against exposure to harmful radiation.
Radiation from Domestic Appliances ...